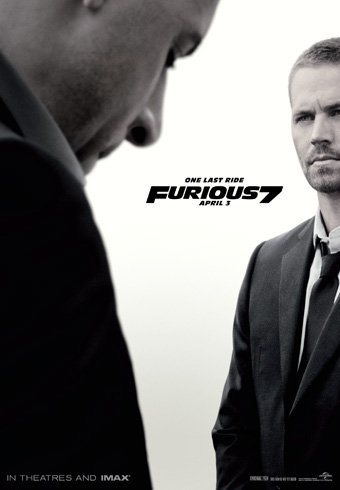 Happy long weekend, Tribute fans! If you want to enjoy it with a movie, here are your weekend releases.
Making its highly anticipated wide release this weekend is Furious 7. The events occur after the last movie in the series, with Owen Shaw's brother Deckard (Jason Statham) seeking revenge on Dom (Vin Diesel), Brian (Paul Walker) and the rest of their crew to avenge his brother's death. Paul Walker unfortunately died as the result of a car accident mid-way into production and his brothers Caleb and Cody stepped in. Impressive CGI techniques and pulled footage were used to recreate Paul's likeliness. Furious 7 is also available in IMAX. For regular showtimes, click here. For IMAX showtimes, click here.
TRAILER: Furious 7
Premiering in Toronto, Vancouver, Calgary, Edmonton, Ottawa, Victoria, Winnipeg and Halifax is Woman in Gold. Maria Altmann (Helen Mirren) is a woman in her 80s who survived World War II. With the help of her lawyer, Randol Schoenberg (Ryan Reynolds), she goes head-to-head with the Austrian government to reclaim the artwork the Nazis stole from her family. For showtimes, click here.
TRAILER: Woman in Gold
Debuting  in Toronto and Vancouver is the comedy While We're Young. Josh (Ben Stiller) and his wife Cornelia (Naomi Watts) are struggling to deal with middle age. When they meet a young, lively couple – Jamie (Adam Driver) and Darby (Amanda Seyfried) – they discover their own inner youth and begin to see the world through newfound, enthusiastic eyes. For showtimes, click here.
TRAILER: While We're Young
Opening in Toronto and Montreal and available on VOD is Last Knights. Raiden (Clive Owen) leads a band of warriors in retaliation against a ruthless czar to avenge the loss of his master (Morgan Freeman). For showtimes, click here.
TRAILER: Last Knights
Debuting in Toronto is Kumiko, the Treasure Hunter. Kumiko, a naive Japanese woman (Rinko Kikuchi), gets her hands on a copy of the movie Fargo. Believing it to be a documentary, she becomes convinced there's a suitcase full of cash hidden somewhere in North Dakota. Kumiko treks her way from Tokyo to America in search of this buried treasure. For showtimes at a theatre near you, click here.
TRAILER: Kumiko, the Treasure Hunter
Opening in Halifax is Cast No Shadow. After Jude's (Percy Hynes-White) abusive father is sent to jail, he develops a friendship with Alfreda (Mary-Colin Chisholm), an elderly recluse. When his father is released, he turns Jude against Alfreda, putting it into his head that she had something to do with the inexplicable death of his mother. Jude becomes caught between his corrupt father, his one friend and his own imagination. For showtimes at a theatre near you, click here.
That's it! These are your long weekend releases. Enjoy your Easter weekend and don't forget to come back and rate, comment and review! ~Sandra D. Sukraj