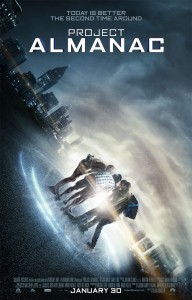 It's Friday and if you're thinking of heading to the movies, there's a new assortment for your viewing pleasure.
If you're a fan of found footage, making its debut today across Canada is the thriller Project Almanac. When a group of high school kids find an old camera with footage from over 10 years ago, they have to watch it. What they discover in it is unsettling—them, as they are in the present day. They find a prototype for a time machine in the basement and attempt to build it. They travel anywhere and everywhere, having the time of their lives. But like the butterfly effect says, if you kill a butterfly in the past, it can drastically alter the future. Can they go back and fix their mistakes before the devastation causes irreparable damage? Click here for showtimes.
Playing in select cities is the crime drama A Most Violent Year starring Oscar Isaac and Jessica Chastain. The film travels back to New York City in 1981; statistically the most violent year in the city's history. Immigrant Abel Morales (Isaac) and his wife Anna (Chastain) are trying to expand their business. But how does a family live the American Dream when they're surrounded by violence and corruption? For a showtime near you, click here.
Also debuting in select cities today is the drama Black or White starring Kevin Costner and Octavia Spencer. Elliot Anderson (Costner) has been raising his granddaughter Eloise since her mother (his daughter) died during childbirth. Elliot's world is turned upside down once again after the passing of his wife. Eloise's paternal grandmother (Spencer) decides to fight him for custody. Elliot will stop at nothing to keep from losing his granddaughter, too. For showtimes, click here.
Movie lovers in Toronto and Montreal can catch the thriller Wild Card starring Jason Statham as Nick Wild, a Vegas bodyguard with a gambling problem. Nick find himself in trouble with the mob when he tries to help a friend get revenge after she is badly beaten. For showtimes in your city, click here.
If you're a hockey fan, playing in Toronto and Vancouver is Red Army, a documentary about the Soviet Union's hockey reign during the Cold War, as told through the eyes of Red Army captain Slava Fetisov. For showtimes in your city, click here.
And there you have it! Your weekly dose of theatrical releases. Enjoy, movie lovers! ~Sandra D. Sukraj