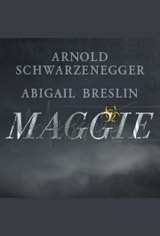 Arnold Schwarzenegger is back on the big screen playing a father protecting his daughter from a zombie-inducing disease. Check out Maggie and this week's other exciting new trailers. ~Suzanne Coolen
1) Entourage
2) Mission:Impossible Rogue Nation
3) Good Kill
4) Man Up
5) Maggie
6) Slow West
Entourage: Film star Vincent Chase (Adrian Grenier) and his entourage continue on where the HBO series left off. All your favorite cast members are back, including Kevin Connolly, Kevin Dillon and Jeremy Piven.
Mission:Impossible Rogue Nation: Tom Cruise is back as Ethan Hunt in the fifth film of the Mission: Impossible franchise.

Good Kill: Ethan Hawke plays a family man who begins to question the ethics of his job as a drone pilot.
Man Up: An introverted single woman in her thirties (Lake Bell) is mistaken for a man's (Simon Pegg) blind date. She decides to take a chance and play along.
Maggie: When a teenage girl (Abigail Breslin) becomes infected with a disease that will slowly turn her into a cannibalistic zombie, her loving father (Arnold Schwarzenegger) stays by her side.
Slow West: A 16-year-old boy (Kodi Smit-McPhee) travels on a journey across 19th-century frontier America in search of the woman he loves, accompanied by mysterious gunslinger named Silas (Michael Fassbender).