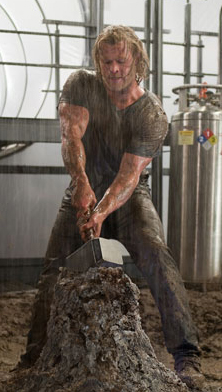 They haven't even been released yet, but Marvel Studios is is so sure that their new superhero flicks Thor and Captain America: The First Avenger will be hits that they've ordered sequels. In a new interview with the Disney magazine D23: The Official Disney Fan Club, Marvel Studios president Kevin Feige revealed this exciting news:
"Thor will go off into a new adventure, and Captain America will continue to explore the modern world in another film of his own. We hope that holds true for the characters appearing in that film—Black Widow, Hawkeye, and the spy organization, S.H.I.E.L.D.—all of whom are more than worthy and capable of carrying their own films. And we've got a lot of other characters we're prepping and getting ready for film debuts: the world of martial arts, these great cosmic space fantasies, Dr. Strange, and the magic side of the Marvel Universe. There are many, many stories to be mined."
Thor, which opens May 6, stars Australian actor Chris Hemsworth and Chris Evans plays Captain America: The First Avenger, opening July 22.