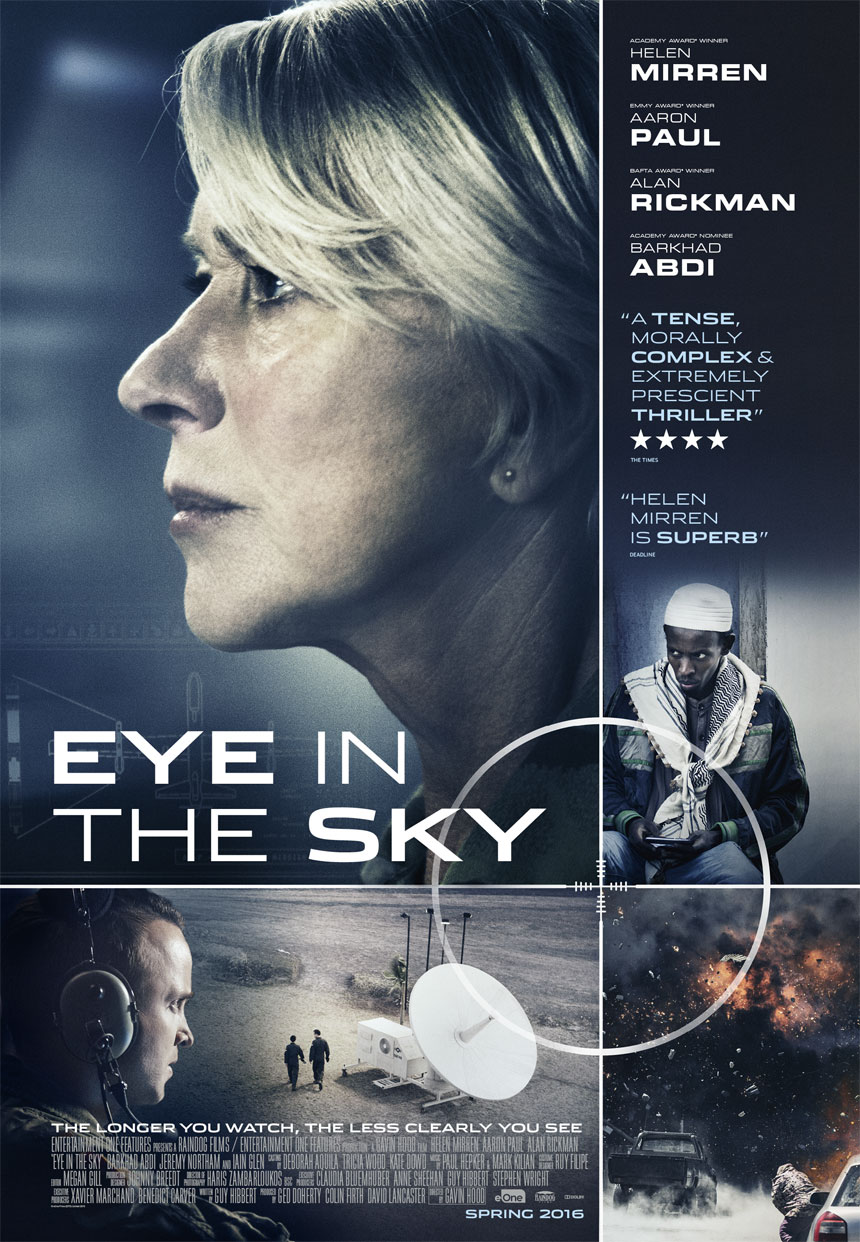 The ethics of drone war fare are put under a microscope in this nail-biting thriller, Eye in the Sky. Helen Mirren drives the film to a top-notch level with hair-raising tension that makes it almost impossible to look away.
Katherine Powell (Mirren) is a British colonel who is the commander of a mission to capture terrorists in Kenya. Using American pilot Steve Watts (Aaron Paul) as her eye in the sky, she is able to control the situation on the ground.
Meanwhile, Jama Farhad (Barkhad Abdi) is tasked with getting beyond enemy lines so he can use a spyware that looks like a flying bug to see what's happening inside the targeted house.
When Watts confirms the target she has been chasing for six years is in the house and that they are planning a suicide mission, the situation gets tense. It's no longer a "capture" mission but instead a "kill" mission.
Watts is all set to go ahead with the drone strike until he sees a nine-year-old girl selling bread onsite.  This changes the game and causes an international dilemma.
This is one of the most intense thrillers I've seen this year. It navigates the question of who to save when it comes to casualties vs. terrorists. Eye in the Sky is an exceptional thriller that raises important ethical questions when it comes to drone strikes.
Maybe believing that the team had so much time to debate whether to go head with the drone strike was a bit far-fetched but nevertheless, it was interesting to see the disputes and questions being raised.
Helen Mirren easily stepped into the shoes of a cut-throat commander who, under a stressful situation, channeled a practical woman on a mission. For his part, Alan Rickman effectively tackled the intense decisions that weighed on the higher ups. Barkhad Abdi played the part of a dutiful soldier to the tee. I wish he'd had more screen time.
Director Gavin Hood has created a film that will leave you holding on to the edge of your seat as events unfold. But it doesn't end there. Even after the movie ends, you are left questioning the ethical and moral dilemmas that soldiers and commanders face. It's truly a thought-provoking, eye-opening film that needs to be watched.
~Marriska Fernandes
Special features include Featurettes, Cast & Crew Interviews and a Picture Gallery.
Have you seen the film? You can review it by clicking on this link.