Three Billboards Outside Ebbing, Missouri is the story of a mother who wants the police to solve her daughter's murder. Having said that, it's not a murder mystery, or a "whodunnit," which makes it all the more fascinating.
The film starts with Mildred Hayes, played by Frances McDormand. Her teenage daughter was raped, murdered and burned seven months earlier and she wants to hold the police accountable so they'll keep looking for the murderer. She comes up with the idea of renting three local billboards with a simple message on it, asking Chief Willoughby (Woody Harrelson) why there have been no arrests.
One of his officers, Dixon (Sam Rockwell), takes offense at the signs and he tries to stir up trouble, even though Willoughby is sympathetic to Mildred's cause. It's not that there's been a cover up — he just doesn't have any answers for her.
Mildred, however, is resolute in her cause. She doesn't hate the police, she just wants them to put some effort into her daughter's case before the file gets cold.
In the role of Mildred, Frances McDormand gives us a fully rounded, three-dimensional being. Although Mildred is stoic, her emotions bubble under the surface. We get just enough of a glimpse to realize that although she's comes across as tough and she's been through a lot in her life, she still cares about others.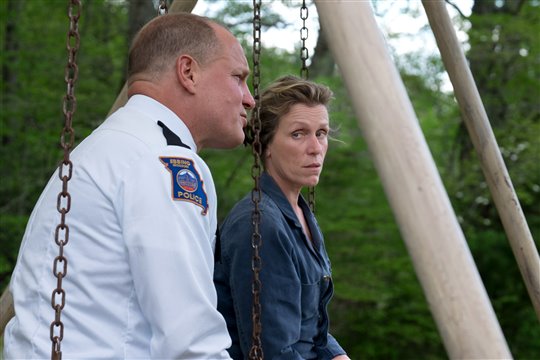 As a mother who has lost a child, Mildred carries guilt along with her grief. In her nuanced performance, with Mildred's emotions often deeply hidden, Frances McDormand subtly earns the audience's empathy.
Meanwhile, Dixon, who lives at home with his mother, is a loaded gun about to go off, while Chief Willoughby just wants to live a peaceful life with his wife and young daughters. He's a good man, but he has serious health issues that take up his time and energy.
When something is well written, the protagonist or protagonists should be different at the end of the story than they were at the beginning. In this movie, Dixon goes through enormous change as unfortunate events occur all around him — sometimes due to his own actions. Sam Rockwell, a multi-award winning actor, is as impressive as always in this role, as a "momma's boy" who has a lot more depth to him than the audience likely expects.
Woody Harrelson, who often plays eccentric characters, does a great job as a devoted and loving family man. He cares not only about his family, but about his officers and the people he serves.
Three Billboards Outside Ebbing, Missouri is a wonderfully crafted movie with outstanding performances from the entire cast. It deservedly won the People's Choice award at this year's Toronto International Film Festival and hopefully will be equally recognized at the upcoming Academy Awards.
5 out of 5 stars. ~Alexandra Heilbron
If you have seen Three Billboards Outside Ebbing, Missouri and would like to rate/review it yourself, click here.