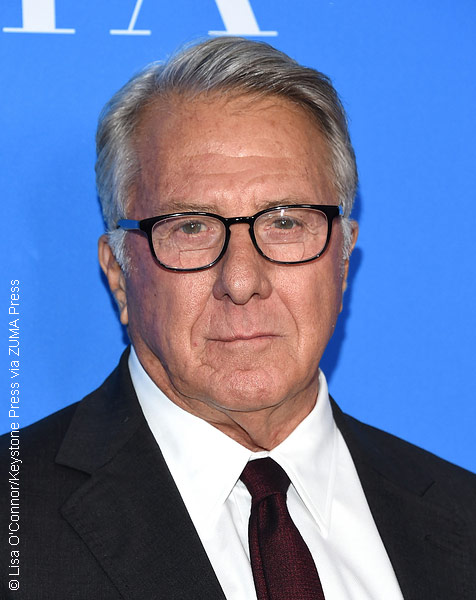 Less than a day after a Variety article detailed Dustin Hoffman being accused of assaulting two women and exposing himself to a minor, his legal team is saying those accusations are "defamatory falsehoods."
Cori Thomas was a classmate of his daughter Karina and was only 16 when Hoffman allegedly exposed himself to her.
Thomas spent an afternoon with Hoffman and Karina in 1980. The group walked around the city and Hoffman bought her a book and a lavish dinner. Hoffman was in the midst of divorcing Karina's mother and was staying in a hotel near the house they used to share.
Thomas recalls she was thrilled that "One of my idols was spending time with me and talking with me respectfully."
Things allegedly took a turn when Hoffman suggested the three of them return to his hotel after dinner. "Either Karina or Dustin suggested that [Karina] should go home," Thomas said, explaining it was a school night and she had homework to do. Karina left and then Thomas and Hoffman, who was 43 at the time, were left alone.
Thomas says Hoffman took a shower and when he came out of the bathroom he dropped his towel, exposing himself to her. He eventually put on a robe before asking Thomas to massage his feet.
"I didn't know what to do in the circumstance," she said. "I didn't know I could say no, so I did it, and he kept telling me, 'I'm naked. Do you want to see?'"
It was seven years before she told anyone the story.
The other two women were connected to the making of the 1987 release Ishtar. Melissa Kester was dating a man who worked on the music for Ishtar and she was invited to the studio in Malibu, where Hoffman was recording vocals. Her boyfriend, a male engineer, and Hoffman were in the studio with her. Hoffman was in a booth recording vocals while the others were in the control room. Kester says Hoffman asked for her to be sent into the booth because he was bored. She says she thought he was joking, but went into the booth.
Hoffman and Kester were visible to the two men in the control room only from the chest up. She alleges Hoffman hugged her from behind and kept holding her as he sang.
Kester says she felt safe since her boyfriend was so close, but then, she alleges, Hoffman stuck his fingers down her pants and then put his fingers inside her. "The thing I feel most bad about is I didn't know what to do. I just stood there. I froze in the situation." Kester also says she made an effort not to react because she didn't want her boyfriend or the other man in the control room to know what was going on. Afterwards, she says of the incident, "I just ran out of there, and I sat in the bathroom crying. I thought 'Oh My God.' I felt like I'd been raped."
The third woman, who remained anonymous, told Variety Hoffman assaulted her while working on Ishtar, and says she had an additional sexual encounter with the actor that she wasn't clear on as to whether it was consensual or not. The woman was 22 at the time and appeared in one of the club scenes.
These women aren't the first to publicly complain about Hoffman. In the last two months, three other women have come forward with stories of abuse and misconduct at the hands of the now 80-year-old actor. Hoffman has denied all of the previous allegations.  ~Hayley Michaud