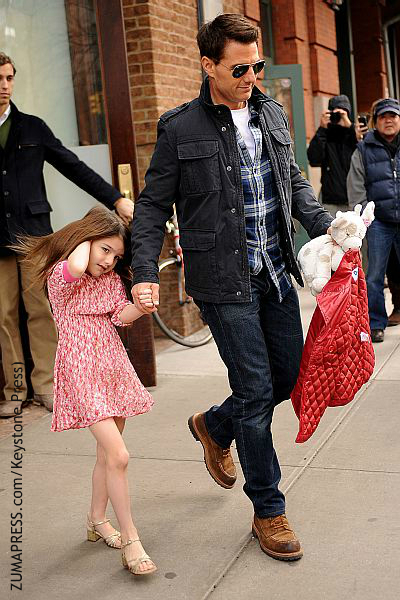 According to news reports, Tom Cruise has not seen his daughter Suri, whose mother is Katie Holmes,  in 801 days – basically, over two years.
Technically, after we did some research, we found out this isn't 100 per cent true. Father and daughter spent three hours together on July 27, in New York City, while he was in town promoting his latest movie, Mission: Impossible – Rogue Nation.
The playdate was arranged by Tom's management team. To keep the paparazzi at bay, Tom did not go to his ex-wife's home. Instead, he chose to meet with his daughter at an apartment located near Central Park that belonged to one of his management team personnel.
The visit has been reported as emotional and exciting for both of them and supported by Katie, who was also in attendance. They read stories, played hide-and-seek, and Tom gifted Suri with an enormous teddy bear.
It was also reported that he became choked up after hearing Suri talk about her ballet classes, realizing he has yet to see her perform.
Understanding the significance of that realization, he might be making some big changes to not let that happen.
It is believed he kept his distance from Suri due to Katie's disapproval of his involvement with the Church of Scientology.
Whatever the case, rumors are circulating that he may be looking to purchase an apartment in New York City to be closer to Suri. ~Sharon Salsberg