Tom Cruise's movie release moved again – why?
By Alexandra Heilbron on April 9, 2008 | 9 Comments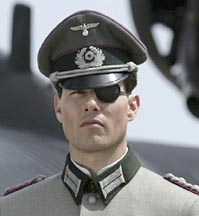 Tom Cruise's latest movie, Valkyrie, in which he plays a Nazi who tries to kill Hitler, has had its release pushed back for the third time. The buzz is that the delay is due to Cruise's terrible German accent — he's unable to pull it off and is now working with a voice coach to make it sound more realistic. In any case, the release date change likely means the studio has decided it's not worthy of Oscar nods and has pushed it from the end of 2008, where it would have been considered for Oscars, to February 2009, a slow month for movies, to avoid competition at the box office. Valkyrie has already cost United Artists and MGM close to $90 million, and shooting is still ongoing.
---
---
---
---