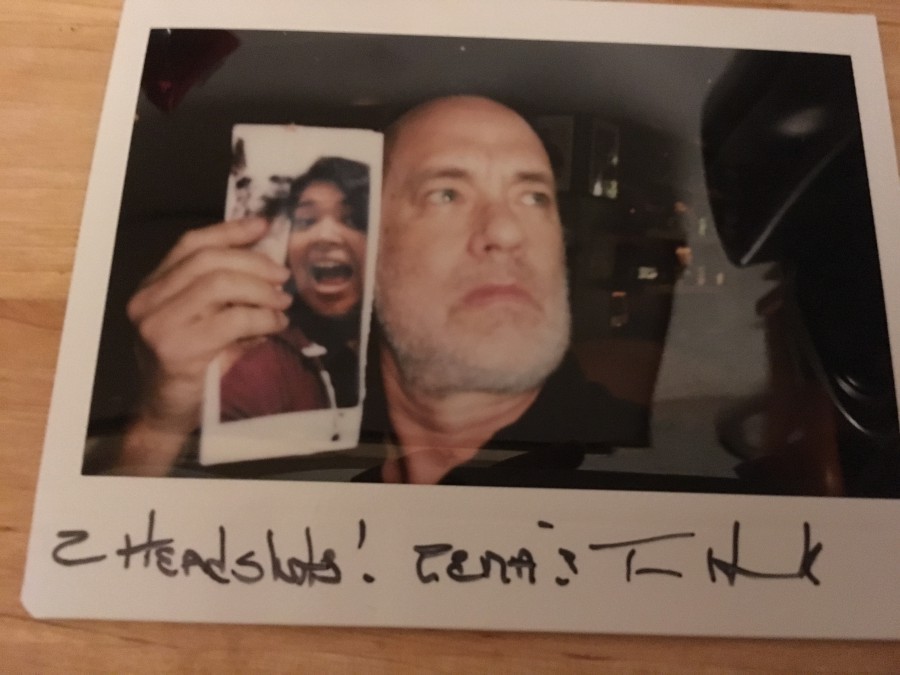 Tom Hanks has once again proven that he's probably the most likable celebrity in Hollywood.
A fan named Zena Gopal recently sent the legendary actor a letter asking for a signed headshot, and what she got in return was a small Hanksmas miracle.
Rather than respond with the obligatory machine-autographed headshot, the always-gentlemanly Tom sent a freshly signed Polaroid selfie of himself holding a picture of Zena (two headshots in one!), along with a personal note written by typewriter on special HANX stationary.
"Does this count as a headshot? Sorry for the beard, but I have some shooting coming up and I must have whiskers," the kindly actor began the letter, followed by a remark on Zena's hometown of Toronto.
"Damn fine town. Growing fast, all those condo towers down on the lake. Nice views, I guess. I have not been there since of the Film Festival dates sometime back," he wrote.
After touching on Christmas' fast approach, as well as his and Zena's mutual love for That Thing You Do!, the actor concluded the note with, "This Polaroid has been developing as I have been typing. This thing is scary…"
And with signature Tom Hanks wisdom, he signed off with, "Throw Deep. Always. Tom Hanks."
An Imgur user shared the heartwarming correspondence yesterday, saying that Tom's response came "quick." The user also revealed that Zena wrote the Oscar winner "on a whim." And they weren't kidding — according to Zena herself, it was all part of a wager.
"I just made a really dumb bet with some friends over some drinks [to see who could get a headshot from a celebrity first]," she said in an interview with CBC on Tuesday. We're thinking she probably won the bet. ~Shelby Morton
What do you think about Tom's response? Tell us below! And speaking of That Thing You Do!, also tell us — What's your all-time favorite Tom Hanks movie?