Tom Sizemore kicked off set after allegedly violating child
By Alexa Caruso on November 14, 2017 | 4 Comments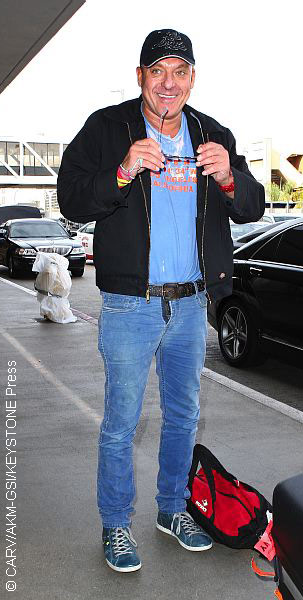 New reports of another Hollywood sexual abuse incident involve actor Tom Sizemore, who was kicked off a set after a young girl said he inappropriately touched her.
The Hollywood Reporter has published an article detailing the alleged 2003 encounter in which Sizemore, who is best known for roles in films such as Black Hawk Down and Pearl Harbor, was working on the Utah set of the film Piggy Backs, later retitled Born Killers.
The actress, who was only 11, told her mother at the time that Sizemore had touched her genitals. The incident occurred during a photo shoot for the film in which the young girl, who was playing Sizemore's daughter, was asked to sit on the actor's lap. She was wearing a nightgown. The photo was needed for a scene in which the killers decide to attack Sizemore's family.
Robyn Adamson, the actress who played the wife of Sizemore's character in the film, was also present for the shoot and told THR that she remembers the girl's face when the alleged touching happened: "At one point her eyes got just huge, like she could've vomited. I was watching her. She soon reintegrated and kept going, although she had trouble taking direction. Later, when I was told about what happened, I knew exactly what it was."
Catrine McGregor, the film's casting director, told THR she received a call from the child's agent, who informed her of the incident: "The mother noticed that her daughter was unusually quiet and told her she was going to take her to this swimming place that was the little girl's favorite thing. When the girl put on her bathing suit, she told her mother that it reminded her of the day before, in an upsetting way — that the bathing suit's contact against her felt like what happened when the man had put his finger inside her."
McGregor later filed a complaint with the Screen Actors Guild's legal department and requested Sizemore be immediately removed from the film. Production assistant Roi Maufas said word on set spread quickly of the incident.
"It filtered down to the crew. The little girl said what she said and we all thought, 'That f****** sleazebag.' There was never any doubt. He was this guy who was already known for making inappropriate comments, being drunk, being high. We're talking about consistent behavior, just being 'Tom Sizemore' on set every day. Then this happens. Guys reached for hammers. [Producer James R. Rosenthal], who was livid himself, had to stop a group of us from going to visit Mr. Sizemore to kick the guy's ass."
Sizemore is known for assaulting a number of women, including his former wife Maeve Quinlin. He was convicted of beating up his ex-girlfriend, former "Hollywood Madam" Heidi Fleiss, not long after this incident.
Sizemore was quickly removed from the set of the film, and although the girl's parents went to police, they didn't press charges. McGregor speculated that they "didn't want to possibly ruin their daughter's film career." When Sizemore was confronted about the alleged incident, he immediately denied it.
He would later be asked to complete reshoots for the film, though this was done at producer Gus Spoliansky's home in Malibu. Spoliansky said: "We had a fiduciary responsibility to complete the film so we decided to go about business as usual — lacking the evidence of what happened that day. We took the allegation extremely seriously and we were willing to do anything, including dismissing Tom. We just couldn't be police, judge and jury."
The former child actress, now 26, has not commented on the incident, other than to say she's hired a lawyer to look at what legal action can be taken against Sizemore and her parents.  ~Alexa Caruso
---
---
---
---