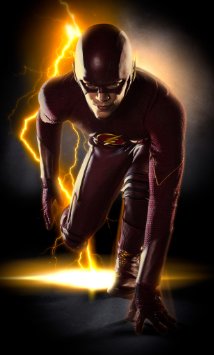 Popular television show Arrow's fanbase is set to follow the creative team of executive producers Greg Berlanti and Andrew Kreisberg, as they show the first screening of their new fall series The Flash tonight at Comic-Con. The Flash premieres this fall Tuesdays at 8/7c on The CW.
Graphic novels turned into films and television is all the rage right now. NBC has already aired the first episode of Constantine based on the DC Comics Hellblazer and it will also be shown tonight at Comic-Con. Constantine will air Fridays at 10/9c on NBC, premiering October 24.
Teen Titan fans can continue the adventure with Teen Titans Go! Based on the DC Comics characters and produced by Warner Bros. Animation, the series airs Thursdays at 6/5c on Cartoon Network.
If you're into zombies, look no further than the new fall series IZombie. Brains are nothing new to Olivia Moore, a 25-year-old medical resident. When she becomes a zombie, she transfers to the city morgue where she can feast on brains. Of course there are side effects to her new diet. In this case, with each brain she consumes, she experiences the corpse's memories through visions and sometimes even receives clues about how they were killed. Based on characters created by Chris Roberson and Michael Allred and published by DC Entertainment's Vertigo imprint, iZombie premieres midseason on The CW.
If you're looking at where to see these series at Comic-Con, they are located in Ballroom 20 and the event runs from 6:00 p.m. to 10:00 p.m. ~Andrea Hodgins