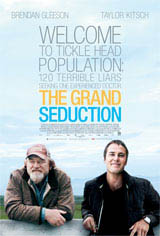 With this week coming to an end, here are the top 10 trailers and videos that our Tribute fans can't get enough of.
1) Maleficent
2) Blended
3) A Million Ways to Die in the West
4) Neighbors
5) The Grand Seduction
6) X-Men: Days of Future Past
7) This is Where I Leave You
8 ) The Trip to Italy
9) Dinosaur 13
10) The Other Woman
1) Maleficent trailer: When she's ruthlessly betrayed, a fairy (Angelina Jolie) places a curse on the newborn daughter of the human king.
2) Blended trailer: Adam Sandler and Drew Barrymore play two people who dislike each other but wind up on vacation together at the same African safari resort and have to share a suite.

3) A Million Ways to Die in the West trailer:
When a farmer (Seth MacFarlane) backs out of a gunfight, his girlfriend (Amanda Seyfried) dumps him. He meets Anna (Charlize Theron), who helps him gain confidence.

4) Neighbors trailer: A young couple (Seth Rogen, Rose Byrne) has a tough time when a loud, obnoxious fraternity moves into the neighborhood.

5) The Grand Seduction trailer: The residents of a Newfoundland town have to find a resident doctor in order for a new plastics company to open and provide them with jobs.

6) X-Men: Days of Future Past trailer: The X-Men join forces with their younger selves in an epic battle that must change the past—to save their future.
7) This is Where I Leave You trailer: When Judd Foxman's (Jason Bateman) father dies, the family comes together for the first time in years. During this time secrets are revealed and longtime grudges come to the forefront.

8 ) The Trip to Italy trailer: In this sequel to 2010's The Trip, Steve (Steve Coogan) and Rob (Rob Brydon) travel around Italy to conduct restaurant reviews.

9) Dinosaur 13 trailer: In 1990, paleontologist Peter Larson and his team from the Black Hills Institute made the world's greatest dinosaur discovery—the largest, most complete Tyrannosaurus Rex ever found. But over the next ten years, they find themselves fighting the U.S. government.

10) The Other Woman trailer:
When a woman (Cameron Diaz) discovers the man she's dating is not only married but cheating on her as well, she teams up with the other women for revenge.