Top 13 Highest-Grossing Horror Film Franchises, Ever
By A A on October 24, 2016 | 9 Comments
Oh, horror movies… They scare us, they thrill us, they make us lose hours of sleep, yet – we love them. In honor of one of our favorite film genres, and to continue the build-up to Halloween, we here at Tribute.ca decided to find out the Top 13 Highest-Grossing Horror Film Franchises, Ever!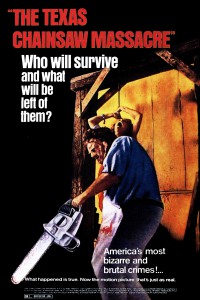 13. Texas Chainsaw Massacre: $250,914,338
Total Texas Chainsaw Massacre box office revenues – which do not include the re-release of Texas Chainsaw Massacre: The Next Generation, amount to $250.90 million dollars. The first movie, The Texas Chainsaw Massacre, grossed $30.8 million in North America. Some of the sequels, such as The Texas Chainsaw Massacre 2 and Leatherface: The Texas Chainsaw Massacre III, didn't quite perform as well as the first film, yet helped to add to the total. However, the 2003 remake of The Texas Chainsaw Massacre grossed $107.1 million worldwide, helping to round out our list.
The franchise centers on "Leatherface" and his family, a group of cannibals that murder and eat people. Lovely, right? Leatherface is the most noteworthy character, known for wearing a mask of human skin, a blood-soaked butcher's apron and carrying a chainsaw. The next film in the installment is reportedly in the works.
12. Halloween: $343,843,431
The eight original Halloween movies and the two more recent remakes have grossed a combined total of $343.8 million, with the original Halloween movie (released in 1978 and starring Scream Queen, Jamie Lee Curtis) grossed an impressive $47 million domestically (foreign box office numbers are unavailable), but the franchise's second-most recent film is the standout moneymaker: Halloween (2007) grossed nearly $60 million at the domestic box office and almost $22 million at the foreign box office.
The spooky Halloween franchise is based on the fictional character Michael Myers (not to be confused with the lovable Canadian comedian, Mike Myers), who was placed in a mental hospital when he was a child after murdering his older sister while wearing a creepy mask… Fifteen years later, Myers returns to Haddonfield, Illinois and goes back to killing. People do what they do, OK? An 11th film, Halloween Returns, is also rumored to be in the works.
11. Insidious: $368,447,026
With just three movies under its belt, the Insidious franchise has already grossed more than $368.4 million worldwide and $189.8 million domestically. Insidious: Chapter 2 is the clear money-making winner in this franchise, with $83.5 million in domestic profits and $161.9 million worldwide. Seems people are happy to open their wallets for a little spooky fun!
Starring Patrick Wilson and Bridemaids star Rose Byrne, the first two Insidious films tell the horrifying story of the Lambert family as they try to thwart off evil spirits. The third and most-recent film in the series, Insidious: Chapter 3, is a prequel that hit theaters in June 2015.
10. Friday the 13th: $445,239,523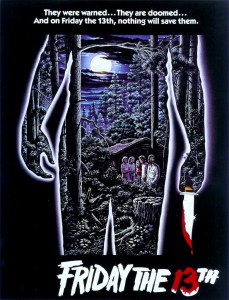 The 12 movies in the iconic Friday the 13th series have amassed a combined $445.2 million. Not bad, Jason! The debut Friday the 13th film (released in 1980) earned a total of $39.7 million, but 23 years later, Freddy Vs. Jason brought in more than $82 million domestically and more than $32 million in the foreign market (and also starred Destiny's Child-star Kelly Rowland in her film debut). However, it was actually the most recent, 2009's Friday the 13th that had the best opening weekend, bringing in almost $41 million at the domestic box office.
The franchise is based on the character of Jason Voorhees, who tragically drowned as a young child while attending Camp Crystal Lake due to the negligence of camp counselors. Lets just say he and his mother were not happy about this…. Years later, the lake becomes the site of numerous murders. Movie No. 13 (epic, right?) of the franchise is slated to hit theaters on Jan. 13, 2017.
9. A Nightmare on Elm Street: $457,001,847
Killer Freddy Krueger terrorized Elm Street and murdered teenagers in their dreams in eight films and one remake, earning a total of $457 million. The first film in the franchise, A Nightmare on Elm Street, grossed a total of $25.5 million domestically (and gave a fresh-faced Johnny Depp his big break), and the rest of the films grossed between $18 million and $63 million — except for 2003's Freddy Vs. Jason, which grossed $82.6 million domestically and $114.9 million worldwide.
8. The Exorcist: $496,966,909
The Exorcist franchise earned a combined total of $496.9 million. After its release in 1973, The Exorcist grossed $402.7 million worldwide, making it the most successful film in this franchise. In a stark comparison, Exorcist II: The Heretic and The Exorcist III earned only around $25 million, yet helped to add to the family and bringing the franchise to #8 on our list.
The plot in each movie is vastly different, yet it typically involves a priest whose faith is "put to the test" when he's faced with a demonic presence, requiring an exorcism. The franchise is actually based on the book The Exorcist by William Peter Blatty.
7. Scream: $604,382,926
Scream is one of the highest-grossing horror franchises of all time, bringing in a total of $604.3 million across a series of just four films. The iconic Scream grossed $173 million, Scream 2 earned $172.3 million, Scream 3 brought in $161.8 million and 2011's Scream 4 made $97.1 million.
In these beloved Wes Craven-directed movies, a "Ghostface" killer stalks and terrorizes Sidney and (all) her friends. Unfortunately for them, the killer keeps returning in each movie… and he's pissed.
6. Final Destination: $665,080,639
You really, really, really can't cheat death, OK? With a massive worldwide gross of $665.1 million, the Final Destination movies have done very well at both the global and domestic box offices. The 2009 film The Final Destination, however, has done slightly better than the other four films; it raked in $66.4 million domestically and more than $186 million worldwide.
These films all have similar plots: A group of teens or young adults cheat death and avoid horrific tragedies in some random way, such as a plane crash, highway pileup, deadly roller coaster ride, etc. But they quickly find out that they can't run from death forever… and death has a lot of time on his (or her!) hands.
5. Jaws: $798,405,075
*Horrifying Jaws theme song starts to play*
Profits for the Jaws franchise totaled $798.4 million (not including the 1980 re-issue of Jaws 2). The first Jaws grossed $470.6 million, Jaws 2 brought in $187.8 million, Jaws 3-D earned $87.9 million and Jaws IV: The Revenge made just $51.8 million.
The first (and arguably most-iconic) movie in the Jaws franchise was released in 1975 and directed by mega-director, Steven Spielberg. The film helped turn him into one of the most famous and sought-after directors in the entire world.
4. Paranormal Activity: $811,630,522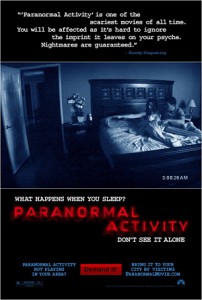 Not only are the iconic Paranormal Activity movies some of the highest-grossing (and scariest?) horror films of all time — bringing in a staggering total of $811.6 million (not even including the most recent film), but production costs are infamously low compared with other high-grossing movies. The first Paranormal Activity movie, for example, had a production budget of only $15,000, according to BoxOfficeMojo.com. Yet, it brought in a whopping $107.9 million domestically and $85.4 million at the foreign box office. Talk about a serious return on your investment!
This horror franchise is mostly composed of creepy footage of ("allegedly real") events experienced by two California sisters and their families terrorized by a demonic force. Boo!
3. Saw: $874,135,204
The Saw franchise box office profits total a whopping $874.1 million, making it one of the most successful horror film franchises in history. Who would have thought? The first Saw film earned $103.9 million worldwide, yet it was actually Saw II and Saw III that did the best at the box office – money-wise.
In the Saw films, the insane Jigsaw Killer brutally tortures victims he considers guilty, smug, or deserving in some way to make them "appreciate their lives" – which more often than not results in the end of their lives.
2. Resident Evil: $915,934,664
The creepy Resident Evil franchise has almost hit the $1 billion mark at the global box office! The first film (released in 2002) starred Milla Jovovich and Michelle Rodriguez. In the film, a team of commandos descend into an underground bio-engineering facility called "The Hive." However, they discover that a deadly "T-virus" infected the employees, turning them all into horrifying, flesh-eating zombies. Great news, right?
Four films followed the original Resident Evil, with the fourth film – Resident Evil: Afterlife, raking in the most money domestically with more than $60 million. Zombies pay, ok!?
DRUM-ROLL PLEASE….. the most successful horror movie franchise of all time?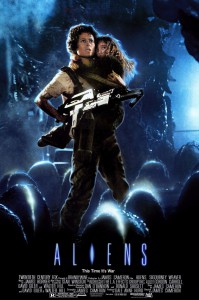 1. Alien: $1,261,966,232
From 1979's Alien starring Sigourney Weaver to 2012's Prometheus starring Charlize Theron, the Alien franchise is the highest-grossing horror movie franchise… ever! With a total worldwide gross standing at $1.26 billion, this means the average for each movie is about $180 million. Aliens sure know how to pay the bills, huh?
Prometheus is by far the most successful film in this franchise, bringing in more than $403 million at the box office worldwide (can you say wow?). In comparison, the franchise's second-most successful film, Alien Vs. Predator, raked in $172 million at the global box office.
In the Alien movies, space crew members encounter deadly, scary, and all-around mean aliens. But in Prometheus, the most recent film in this franchise, a team travels through space to find the origin of mankind… and unfortunately stumbles upon aliens on a distant planet. Trouble certainly ensues…
And there you have it! What are YOUR favorite movies on this list? Or which horror movie franchises do you love that didn't make the list? Sound off in the comments section or contact with us on Facebook, Twitter or Instagram! 
(Totals according to BoxOfficeMojo.com unless otherwise noted. Totals were not adjusted for inflation.)
---
---
---
---
Similar Articles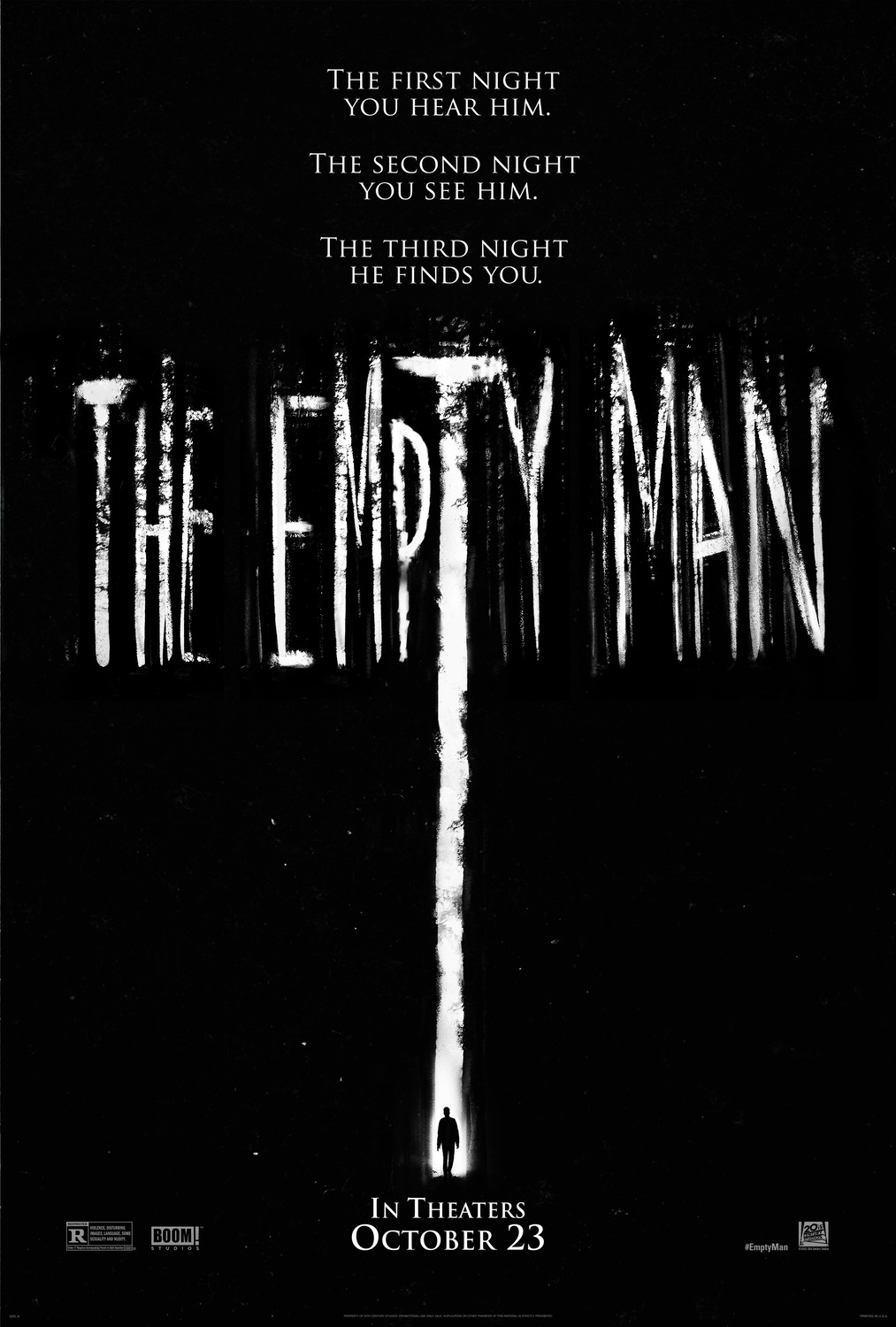 October 23, 2020 | Leave a Comment
Check out which new movies are coming to theaters, as well as some fun Halloween-themed re-releases just in time to get you in the mood for the spooky night!
---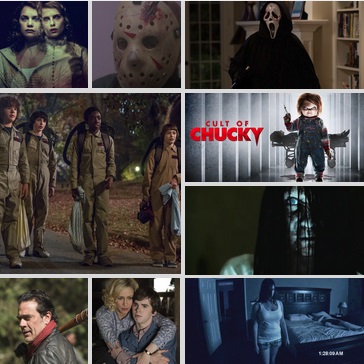 October 20, 2017 | Leave a Comment
Netflix has a wide selection of creepy, gory and funny Halloween picks to enjoy this month. Check out which ones we suggest that you should binge-watch.
---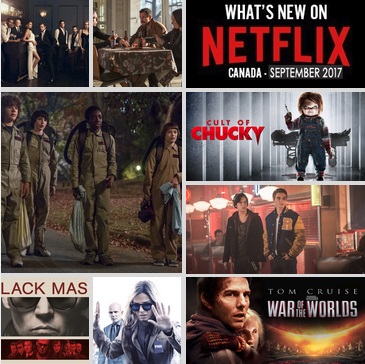 September 29, 2017 | 1 Comment
This Halloween month, there's a scary serving of horror flicks as well as a selection of comedies and drama for the non-horror fans. Here's our October Netflix guide.
---