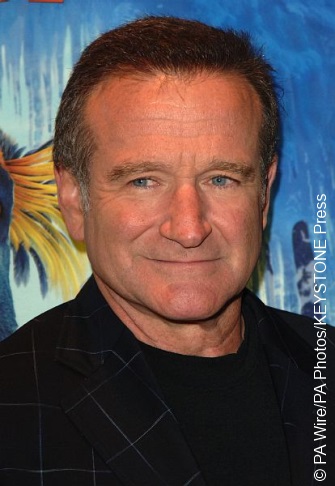 The tragic loss of Robin Williams, 63, has left many of his family, friends and fans grieving and expressing their relationship with the actor, stand-up comedian and family man. Here are a few facts you may not know about the iconic Robin Williams.
1. Robin Williams started out his career intending to take serious roles. In 1976 after leaving Julliard, he found himself embracing stand-up.
2. In 2010, Robin topped the Comedy Albums chart with Weapons of Mass Destruction, which spent four weeks at No. 1.
3. When his friend John Belushi died of an overdose in 1982, it was a wake up call to Robin who admitted to using cocaine and being an alcoholic. In 2006, encouraged by friends and family, he entered rehab for alcohol addiction, after he had remained sober for more than 20 years.
4. Good Will Hunting earned Robin the Best Supporting Actor Oscar in 1998, for his character Sean Maguire, a grieving therapist who mentors Will (Matt Damon).
5. In his Oscar speech, Robin Williams thanked Matt Damon and Ben Affleck for taking a chance on him with the dramatic role, since Robin is mostly known for his comedic side.
6. He was nominated three other times for Best Actor for his roles in Good Morning Vietnam, The Fisher King and Dead Poets Society.
7. Robin and Bette Midler were the last guests on The Tonight Show with Johnny Carson.
8. Director Barry Levinson wanted to work on TOYS as his first film but he had to wait five years after working with Robin on Good Morning, Vietnam, for the two to collaborate on the film.
9. Robin's father was proud of his work as an executive at a Detroit Ford car company and his mother was probably a socialite or at least not the maternal type. Robin says his childhood was difficult, as he was raised by a nanny in a mansion. (His father died in 1987 and his mother in 2001).
10. Robin is known for his rocky relationships. He was married to Valerie Velardi from 1978 to 1988. They have a son, Zachary. Then he and Marsha Garces were married from 1989 to 2008, with two children, Zelda and Cody.
11. His daughter Zelda was why Robin was in a Nintendo game advertisement for Zelda, in which he stars alongside his daughter, named by her family after the video game.
12. His daughter Zelda Rae Williams turned 25 on July 31, which is the last time Robin posted on social media. The post is a photo of him and Zelda.
13. Robin's owned more than 50 bicycles. He started cycling when his daughter Zelda was born.
14. In an interview about his son he says, "Zachary's married and working. When he graduated from NYU, it was one of the most moving days of my life. I was so proud of him."
15. Entertainer Kathy Griffin posted a photo of Robin with his idol Jonathan Winters.
I met this sweet, generous & brilliant man Robin Williams in 1991. Here we are with HIS idol Jonathan Winters. #RIP pic.twitter.com/ZI4QV5QyuL

— Kathy Griffin (@kathygriffin) August 11, 2014
16. When asked why Robin did USO tours for United States of America troops, he said, "I do those because it's like the real version of Good Morning, Vietnam, meeting people and seeing what I can do to help. They're the best audiences I've ever had. The most powerful experience is visiting the wounded in hospitals."
17. He was never supposed to be on the television show Friends. He and Billy Crystal appeared in the season three's "The One With The Ultimate Fighting Champion" ad libbing their way through their roles. Seeing that the actors were filming nearby, the Friends' writers wrote them into the script.
18. Letting his natural comedic talents come out won him the part of Mork from Ork on Happy Days. Producer Garry Marshall gave instructions for Robin to sit down, so Robin did, sitting on Garry's head. Garry hired Robin's saying he was the only alien who auditioned.
19. Good Will Hunting touched fans so much that upon hearing of Robin's death, the bench in the Boston Public Gardens where Robin and Matt Damon filmed a powerful scene, is now surrounded by quotes and messages from fans.  
20. Robin Williams participated in a Reddit AMA in September 2013. ~Andrea Hodgins