From Thor to X-Men to Green Lantern and Captain America—this year is set to be a great one for comic book movie heroes who are set to storm onto the big screen in fine fighting form. Here's a quick rundown of what's to come!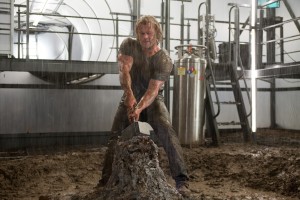 Thor  – May 6
Thor (Chris Hemsworth), a powerful but arrogant warrior, is sent down to Earth as punishment for re-igniting a reckless war. But after a dangerous villain from his world sends the darkest forces of Asgard to invade Earth, the hammer-wielding Thor will learn what it takes to be a true hero in order to save mankind.
Cast: Chris Hemsworth, Natalie Portman, Tom Hiddleston, Anthony Hopkins, Rene Russo, Stellan Skarsgard, Jaimie Alexander, Kat Dennings, Ray Stevenson
Comic book background: Groomed from an early age to assume his father Odin's throne, Thor, known as the God of Thunder, proved himself worthy of carrying the uru hammer Mjolnir, which allows him to transport himself from Asgard to Earth to fight his half-brother and enemy, Loki. Thor became a founding member of the Avengers and fought alongside such heroes as Captain America and Iron Man. His powers are enhanced strength, near-invulnerability and longevity, and he wields the unbreakable hammer that can open inter-dimensional portals, permit flight, channel storms and fire energy blasts. (Marvel Comics)
Movie Buzz on Thor's hammer: "It's incredible. I tried to steal it but they wouldn't let me!" Hemsworth said. "It's a beautiful piece of design, equipment. It looks just like what they have in the comics with the engravings from Asgard."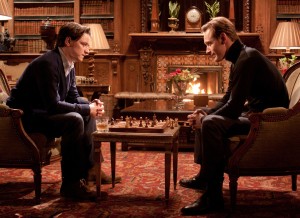 X-Men: First Class – June 3
Before Charles Xavier (James McAvoy) and Erik Lensherr (Michael Fassbender) took the names Professor X and Magneto, they were two young men discovering their powers for the first time. Before they were arch enemies, they were closest of friends, working together, with other mutants. In the process, a rift between them opened, which began the eternal war between Magneto's Brotherhood and Professor X's X-Men.
Cast: James McAvoy, Michael Fassbender, Rose Byrne, January Jones, Jason Flemyng, Lucas Till, Morgan Lily, Edi Gathegi, Nicholas Hoult, Kevin Bacon
Comic book background: The X-Men are a team of superhuman mutants founded by Professor Charles Xavier, a mutant holding telepathic powers who founded the team in order to train the mutants to use their superpower abilities and to serve as a combat team to defend ordinary humans from other mutants. Professor X lost the use of his legs in a clash with an alien who called himself Lucifer, which led to his starting Xavier's School for Gifted Youngsters. (Marvel Comics)
Movie Buzz on the young Charles Xavier: "I think the fun thing about these films, when you go back and you either reboot or do a prequel, is you get to see how people became who they are," James McAvoy told Collider.com. "That means that you have to do them differently and by the end of the movie you have to do them the same way. The interesting journey is what happens to them, what changes them, what makes them evolve, not just mutate, but also emotionally and psychologically evolve."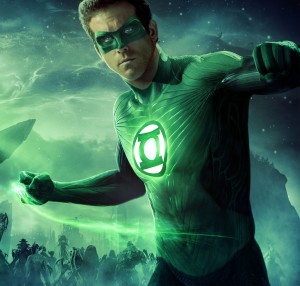 Green Lantern – June 17
Protectors of peace and justice, the Green Lantern Corps are a brotherhood of warriors sworn to keep intergalactic order. Each Green Lantern wears a ring that grants him superpowers. But when a new enemy, Parallax, threatens to destroy the balance of power in the Universe, their fate and the fate of Earth lie in the hands of their newest recruit, the first human ever selected: Hal Jordan (Ryan Reynolds)—a gifted and cocky test pilot, who must quickly master his new powers and find the courage to overcome his fears in order to become the greatest Green Lantern of all.
Cast: Ryan Reynolds, Blake Lively, Peter Sarsgaard, Mark Strong, Tim Robbins, Jon Tenney, Angela Bassett
Comic book background: Billions of years ago, the self-appointed Guardians of the Universe, originally from Oa, recruited thousands of sentient beings from across the cosmos to join their intergalactic police force known as the Green Lantern Corps. Possessing the ability to overcome great fear, the Green Lanterns patrol their respective space sectors with courage, honor and dedication. Wielding the emerald light from the emotional spectrum, the Green Lanterns are capable of creating constructs in the shape of whatever they imagine. The power rings also provide flight, force fields and communication.
After witnessing his father's death, seven-year-old Hal Jordan was summoned by the dying Green Lantern Abin Sur to become a Green Lantern, even though he was human. Hal quickly rose in the ranks of the Corps to become the best of the best. He flies high day and night, both as U.S. Air Force test pilot Captain Hal "Highball" Jordan and Sector 2814's Green Lantern. Jordan's constructs are among the most powerful. (DC Comics)
Movie Buzz on the Green Lantern suit: "This is a suit from an alien planet. It's not The Dark Knight – I don't put the suit on and my voice drops several octaves. The suit is powered specifically on his will, his emotion, his creativity and his imagination. I love that. Everything Hal [Jordan] creates are images from his childhood. Or things fueled specifically from his own mind."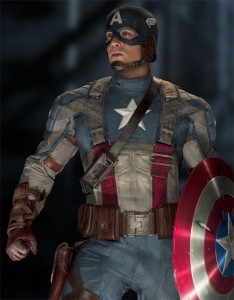 Captain America: The First Avenger – July 22
After being deemed unfit for military service, Steve Rogers (Chris Evans) volunteers for a top secret research project that turns him into Captain America, a superhero dedicated to defending America's ideals.
Cast: Chris Evans, Hugo Weaving, Tommy Lee Jones, Stanley Tucci, Dominic Cooper, Neal McDonough, Hayley Atwell, Sebastian Stan, Samuel L. Jackson
Comic book background: In World War II patriotic solider Steve Rogers—recipient of the "Super Soldier Serum"—became the living symbol of freedom. Subject to Dr. Abraham Erskine's serum, Steve Rogers' body doubled in size as millions of healthy cells were created instantaneously, creating the perfect human specimen. Dr. Erskine's plan to create a whole super army was foiled when Nazis infiltrated his secret test area. Killed by the Nazis, Dr. Erskine's secrets on creating super soldiers died with him, leaving the newly christened Captain America the only soldier of his kind. Equipped with a nearly unbreakable red, white and blue shield, Captain America can lift twice his weight, is an expert military strategist, an Olympic-level martial artist and gymnast and is resistant to disease and fatigue. During a battle, Captain America lost his grip in a plane crash that plunged him in icy waters. Left for dead while frozen in ice for decades, the star-spangled hero was later discovered by members of the Avengers who restored him back to life. (Marvel Comics)
Movie Buzz on Chris Evans pleasing fans: "It's important to know at the end of the day we are doing this for the fans. And if they're not happy, we've missed the mark," Evans told TotalFilm.com. "You go in and do as much research as you can from the comic books, but you're also trying to make something your own. This is an origin story. I think a lot of the comic books deal with after he's become Captain America, so to some degree we had to take some liberties. But you want to make sure you've done your homework."
MORE TO COME in 2012…

Next year will be another big year for comic-book action movies with The Avengers, Superman and Spider-Man. Here's some inside scoop.
The Avengers
The movie is still hush hush as to its plot but will star Robert Downey Jr. as Iron Man, Scarlett Johansson as Black Widow, Jeremy Renner as Hawkeye, Mark Ruffalo as The Hulk, Chris Evans as Captain America and Chris Hemsworth as Thor. (Marvel Comics)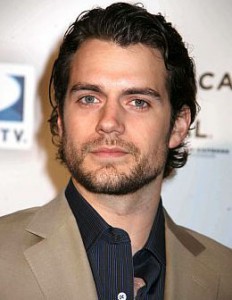 Superman: Man of Steel
British newcomer Henry Cavill was the lucky actor to win the role of Clark Kent/Superman in the next instalment, Superman: Man of Steel.  The Tudors and Immortals star was a ball of nerves rather than steel when he realized what big shoes he'd have to fill. "All I could think was: Oh, god. They're going to look at me and go, 'He's not Superman. Not a chance,'" Cavill admitted to MTV. "The actor inside me was going: 'you're not ready! You're not ready!'" But director Zack Snyder had no doubt this was their man. When Cavill put on the costume, "He walked out, and no one laughed," the director said. "Other actors put that suit on, and it's a joke, even if they're great actors. Henry put it on, and he exuded this kind of crazy-calm confidence that just made me go, 'Wow.' OK: This was Superman." Diane Lane has been cast as Martha Kent and Mad Men's Christina Hendricks is cast as Lois Lane. (DC Comics)
The Amazing Spider-Man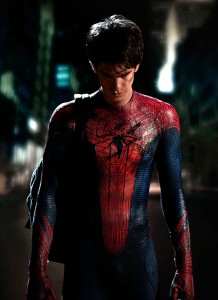 Another British newcomer, Andrew Garfield (The Social Network), has snagged a role of superhero, namely Spider-Man. The movie will feature Spider-Man during his high school years and how he developed into the webbed superhero. "I have been waiting for this phone call for 24 years, for someone to call me up and say, 'Hey, we want you to pretend to be a character that you've always wanted to be all your life, and we're going to do it with cool cameras and cool effects and you're going to feel like you're swinging through New York City. Do you want to do that?'" Garfield told the Hollywood Reporter. "This is what I've been waiting for. Like every young boy who feels stronger on the inside than they look on the outside, any skinny boy basically who wishes their muscles matched their sense of injustice, it's just the stuff that dreams are made of, for sure. It's a truly an honor to be part of this symbol that I actually think is a very important." Easy A's Emma Stone will star as Gwen Stacy. (Marvel Comics)
– compiled by Toni-Marie Ippolito