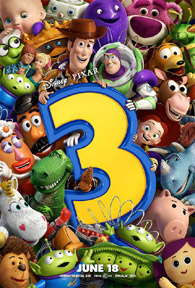 by Bonnie Laufer Krebs

Pixar has done it again!!! It's not often when a sequel comes along that trumps its predecessors—but Toy Story 3 is a movie that's NOT to be missed. There's no doubt that Toy Story 1 and 2 were innovative and outstanding, but Disney's Pixar studio outdid themselves with Toy Story 3. Not only did it garner over $1 billion at the box office, it received critical acclaim from fans and critics around the world when it was released earlier this year. If you missed it, or just want to see it again—you're in luck!! Toy Story 3 is now available on DVD and Blu-ray to enjoy in the comfort of your own home.
Tom Hanks, Tim Allen, and the all-star casts of Toy Story and its sequel return for a third outing as the voices of Pixar's beloved toys. Lee Unkrich, a co-director on Toy Story 2 and Finding Nemo, takes the reins for this third film and we get to meet a whole slew of new "toys" that give our heroes a run for their stuffing!!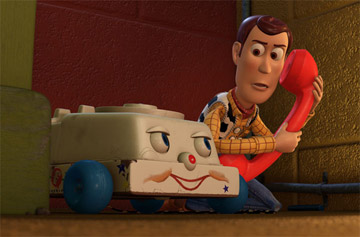 Toy Story 3 picks up on the day that Andy is packing up to leave for college. Being a teenager, he hasn't played with his beloved toys in years, but placed them in a chest and never quite had it in him to give them away. When his mom asks him to put them in a bag so that they can be stored in the attic, the bag mistakenly gets taken out to the trash and that's when the journey begins. It's up to Woody to save the day. You see, Andy couldn't quite part with his favorite childhood toy so Woody was left out of the bag. The toys get taken to a daycare centre where they meet an interesting group of new toys who really don't want anyone messing with their turf!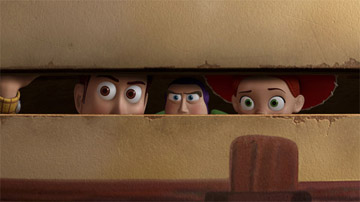 Toy Story 3 is fun, funny and extremely emotional but in true Disney fashion it will tug at the heart strings of every member of the family. I recently had the pleasure of travelling to Los Angeles to chat with some of the key players of Toy Story 3 about the new DVD and Blu ray release.  One of the highlights was getting the opportunity to talk to Dancing with the Stars pros Cheryl Burke and Tony Dovolani who choreographed the dance sequence for Spanish Buzz Lightyear's dancing debut. The entire dance can be seen at the end of the film during the credit roll. I even got a private dance lesson from Tony, which was a complete thrill.
Be sure to click on the links below to check out ALL of my interviews for the release of Toy Story 3 on DVD and Blu Ray.
INTERVIEWS
Cheryl Burke & Tony Dovolani ("Dancing With the Stars," choreographers)
Lee Unkrich & Darla K. Anderson (Director/Producer)
John Morris (Voice of Andy)
Bob Pauley (Animation Supervisor)
Carlos Baena (Animator, Spanish Buzz)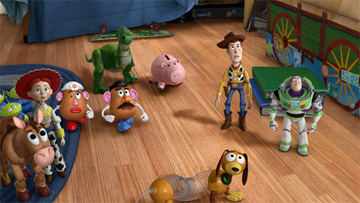 Toy Story 3 DVD bonus features are as follows:
Day & Night—The innovative and entertaining short from the imagination of Pixar artist and director Teddy Newton.
Toys!—A closer look at all of Toy Story 3's beloved toys from updating the classic characters to the creation of the Sunnyside Daycare and Bonnie's Room toys.
Buzz Lightyear Mission Logs: The Science of Adventure—Produced in conjunction with NASA, this hybrid animation documentary of Buzz's visit to the International Space Station focuses on research in zero gravity and Buzz's triumphant return to Earth.
Paths to Pixar: Editorial—Pixar editors, past and future share anecdotes about their careers.
The Gang's All Here—A touching look at the returning voice talent for Toy Story 3 and an introduction to the voices of the new characters.
A Toy's Eye View: Creating a Whole New Land—A sneak peek at the new Toy Story-themed playland at Hong Kong Disneyland.
Studio Stories—A series of amusing animated anecdotes about life at Pixar.
"Where's Gordon?" —An animator finds a hidden room at Pixar.
"Cereal Bar" —The majestic and expansive Pixar cereal bar is explored.
"Clean Start" – The Toy Story 3 animators shave their heads to mark the start of the film.
Toy Story Trivia Dash—This cool game challenges you to sprint to the finish with Woody, Buzz, Jessie and Rex as you quickly answer questions about all three Toy Story movies.
Cine-Explore—Commentary by Director Lee Unkrich and Producer Darla K. Anderson.
Beyond the Toybox: An Alternative Commentary Track Featuring Leads from Story, Tech, Art and Animation— Commentary by Story Supervisor Jason Katz, Supervising Technical Director Guido Quaroni, Production Designer Bob Pauley and Supervising Animators Bobby Podesta and Michael Venturini.
Beginnings: Setting A Story In Motion—Screenwriter Michael Arndt analyzes successful opening scenes from Toy Story, Finding Nemo and The Incredibles.
Bonnie's Playtime: A Story Roundtable—A roundtable discussion with Director Lee Unkrich and the story artists who brought the "Bonnie's Playtime" scene to life.
Roundin' Up A Western Opening—The development of the movie's exciting opening scene.
Life Of A Shot—Toy Story 3 artists and technicians describe their contributions to a few of the shots in the film's "Western Opening."
Goodbye Andy—An exploration of character design, acting and animation in the scene "Andy's Goodbye."
Accidental Toymakers—By creating the Toy Story characters, the Pixar filmmakers found themselves in the unlikely role of toy designers. Meet the toy company that took a chance on manufacturing the now iconic toys and learn of their incredible success that began with a modest number of Woody and Buzz Lightyear toys 15 years ago.
Making of Day & Night—The story behind the unique 2D/3D blended short.