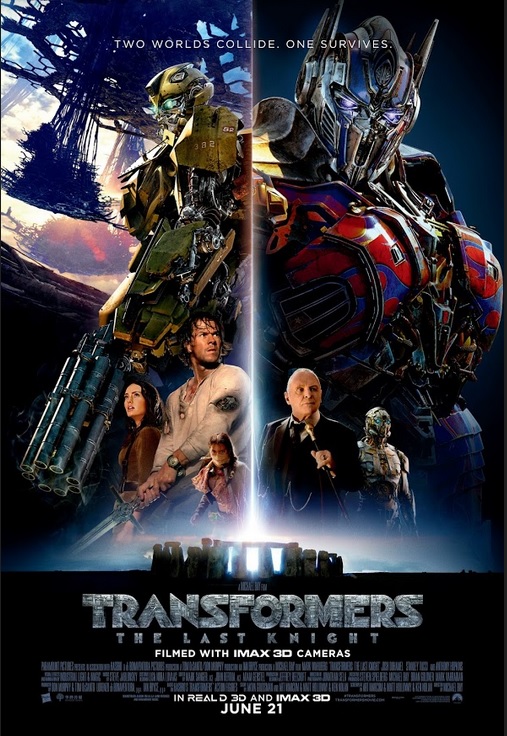 "Two worlds collide, but only one survives."
Transformers: The Last Knight is the fifth and final installment in director Michael Bay's action-packed series about robots that can convert themselves into vehicles. Picking up where Transformers: Age of Extinction left off, Earth is under attack from the evil Decepticons.
Cade Yeager (Mark Wahlberg) and the Autobots are under attack by an organization known as TRF (Transformers Response Force), a team led by William Lennox (Josh Duhamel). Cade and Bumblebee rescue a girl named Izabella (Isabela Moner), who is a robot mechanic on her own since her parents died. Cade, Izabella and his assistant Jimmy (Jerrod Carmichel) live in an abandoned scrapyard with the Autobots.
In space, Autobots leader Optimus Prime is told by his creator, Quintessa, that he must return to Earth to recover a staff that will restore Cybertron to its former glory.
On earth, Lennox approaches the evil Megatron to help the TRF kill the Autobots in exchange for the release of his fellow Decepticons. Meanwhile, Sir Edmund Burton (Anthony Hopkins) learns that Optimus is on his way back to Earth and sends his servant Cogman to locate Cade.
Once at Edmund Burton's estate, Cade meets a professor named Vivian and her guardian Hot Rod. The two learn that if they want any chance at saving Earth, they must find the staff before the others.
Enough about the plot though — if you ask me, this movie is a must-see in IMAX 3D. The visuals throughout the movie were epic — I was already blown away within the first few minutes. After some quick dialogue, and a crazy battle, we see some amazing shots of huge green mountains (not what I was expecting from a Transformers movie), before a massive robot dragon begins attacking England.
Whether it's a crazy explosion, or a vehicle in hot pursuit, you almost feel as if you're really there. The breathtaking visuals stand out — you can almost pinpoint every detail in each scene.
I know he catches a lot of flak from the fans, but Michael Bay is great at putting together a visually appealing movie, and you can't take that away from him. The action scenes were exceptional and I was impressed to say the least, especially because the movie was filmed in IMAX. The main showdown was easily my favorite scene.
Michael's movies always have some humor in them, which is a nice touch. This is something that not all fans agree with, but it is pretty much expected by now from a Transformers movie. However, I was surprised by some of the language used in the movie — I really enjoyed Transformers as a kid and I'm not sure my parents would have allowed me to watch this one. That is concerning, because kids are the ones who are going to support this movie the most and take their parents to the theaters to watch it. That being said, the film is only rated PG-13 so it's not all that bad.
One thing I really appreciated about this movie was how much screen time the robots got throughout the film. I feel like some of the earlier movies in the series focused more on the humans, so it was nice to see the Transformers get a little more light shined on them in this one. Who really cares for humans anyway? If you're coming to see a Transformers movie, chances are you want to see robots kicking each other's butts!
If you have seen Transformers: The Last Knight, and you would like to write your own review, click here. ~ Brenden Zerihun