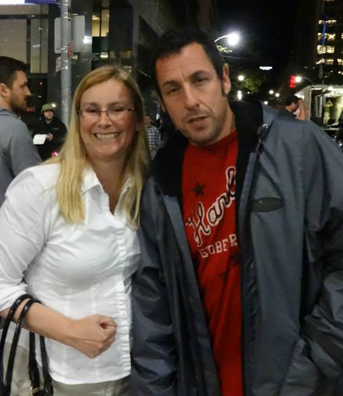 Diane Gauvin sent us this photo of herself with Adam Sandler taken last week on the Toronto set of Pixels. This wasn't her first time meeting Adam – read her account below:
My daughter Madison and I saw the premiere of Hotel Transylvania during TIFF. It is a 3D movie and they only had adult glasses left, which were a little big for my daughter, who was eight at the time. Not a big deal. Before the movie they brought all the cast out on the stage to introduce them. When Adam came out he was wearing a pair of kids 3D glasses, which were a different colour. We were seated in the second row.  As Adam was leaving the stage I called him over.  He actually came to the edge of the stage to talk to me! I asked if he wouldn't mind switching glasses with my daughter. He said "Sure!" and traded glasses.
Last week I was downtown doing the hidden cash TO hunt and came across the set for Pixels. Adam arrived but didn't go out to the crowd for photos or autographs and at around 1 a.m. he left. I stuck around and just before 2 a.m. his car came back. He was on the sidewalk walking to the set. I ran over and said, "Adam, can we talk for a few minutes?" He said, "Sure, walk with me." So I walked with him right onto the set. I asked if he remembered switching glasses with us at TIFF and he said "Yes!" Not sure if he actually did or was just being polite, but when I asked if I could get a photo with him, he said "Yes," and one of his crew took my camera and took the photo. My lucky night.
Thanks to Diane for sharing this awesome story with us – Adam is definitely a sweetheart! If you've met a celebrity, please send us your story and a pic because we'd love to share it with our readers!