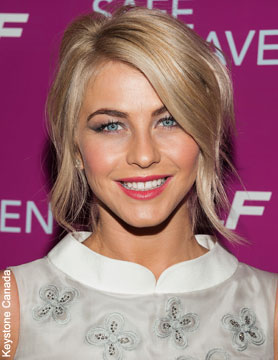 What the stars have planned for you!
by Susan Kelly
Julianne Hough – July 20, 1988
Born on the talented Cancer-Leo cusp, Julianne was destined to have many artistic outlets to choose from. With a strong Libra moon, a sign associated with dancing, she first rose to fame as one of the professionals on Dancing With the Stars. Now she's added country music singer and actress to her resumé. Julianne seems to fare better with the critics when she takes on roles in musicals than with her dramatic turn in Safe Haven. She's getting rave reviews on the dating scene after the breakup with Ryan Seacrest earlier this year, and likely will prefer to play the field for a while.
ARIES (March 21 – April 20)
Expect a few retakes in the home scenario as summer begins. You might have to revisit a project you thought was a wrap, or in other ways finish up past business. Meanwhile, your star is rising on the social scene and at work, with plenty of diversions and good times ahead. Best vacation time: first two weeks of August.
TAURUS (April 21 – May 21)
Luck is on your side as summer begins. Friends and associates will provide the keys that open new doors of opportunity. Home is where your heart is throughout August, and the romance potential is sky-high. Early in the month looks best for a staycation or taking a break at a nearby destination.
GEMINI  (May 22 – June 21)
Stuck in the summer doldrums? Not for long! A big break in the form of a bonus or job offer could strike like summer lightning. With Mercury retrograde for most of July, it's best to not make firm commitments. Meanwhile, your social life is a breeze, and a big trip could be on tap for late August.
CANCER (June 22 – July 22)
The stage is set – so why do you feel like you have the wrong script? With Mercury retrograde until July 20, expect mix-ups that are beyond your control. Relax; big and positive changes are afoot all summer long. A new or renewed romance brings a breath of fresh air mid-August, as does a last-minute getaway or two.
LEO (July 23 – August 23)
The sun shines in your financial sector. Expect to see an angel appear, as in someone ready to provide much-needed financial backing. Others prove highly significant, from your life co-star to minor players. The potential is there to forge fulfilling new partnerships, and romance flourishes while on vacation.
VIRGO (August 24 – September 23)
Vacation plans not panning out? Mercury retrograde brings the usual mix-ups, delay and confusion until July 20th. But most of the summer, your efforts prove pure gold to decision-makers, who will take a shine to you. Early August is best for hitting the hammock and doing as little as possible.
LIBRA (September 24 – October 23)
You're in the limelight through most of July. It's an optimal month to apply for a promotion or send out resumés. Just don't accept any new position until after the 20th. You social life gets a boost, likely through a club or organization you belong to. Mark mid-August as best for a getaway.
SCORPIO (October 24 – November 22)
What vacation? Positive influences abound in your career house, so it may have to be postponed. Do watch a tendency to speak your mind too bluntly, especially around higher-ups. It's clear sailing on the social front, and you might test the waters of a new romance. If you can get away, the last week of July looks best.

SAGITTARIUS (November 23- December 21)
Travel plans could derail in July, likely because you're needed at home. It's a great time for home improvements, either renovating or moving up. Meanwhile it's full speed ahead in your social life. Apply the brakes and take it slower to avoid a summer romance meltdown. You finally hit the road late in August.
CAPRICORN (December 22 – January 20)
It's all about relationships throughout July. You may find a valued mentor or a summer romance is not out of the question. "Where does the money go?" is a question you'll finally answer in August. As well, you can cash in any unused vacation days then, as trends favor a getaway almost all month long.
AQUARIUS (January 21- February 18)
Your charisma soars with the temperatures, and you just might set a record. New people and situations now enter your orbit. Focus on career advancement in July, and partnerships and close relationships in August. A summer romance is likely in the script, as is a chance to travel on business.
PISCES (February 19 – March 20)
Hit the road early in July. Despite a few mixups in schedules, the first two weeks are optimal for getting away from it all. A summer course or skills refresher could be life changing. August will be hectic, so make sure you maintain a healthy lifestyle, getting enough sleep especially, to keep in top shape.