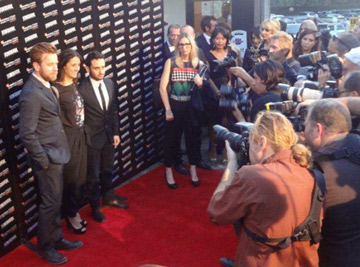 Hamilton watches hosted the 6th annual "Hamilton Behind the Camera Awards" at the Hollywood House of Blues in Los Angeles, paying tribute to behind-the-scenes talents whose individual work has contributed to the quality of a motion picture or television series, and the lasting impression it left on audiences.
Chris Harrison (best known for his role as host of the reality dating show, The Bachelor and its spin-offs The Bachelorette and Bachelor Pad)  hosted the event, with award presentations by actors and filmmakers such as Ewan McGregor (pictured at left on the red carpet) Harrison Ford, Mena Suvari, Paul Dano and others. Honorees were selected from movies and television series released during the year and/or that qualified at the most recent movie festivals of Cannes, Toronto and Venice, as well as at the Festival of the American Film Institute.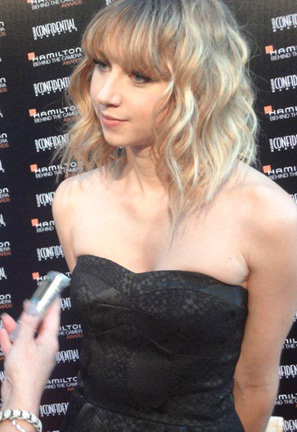 The 11 people honored were director Benh Zeitlin (Beasts of the Southern Wild),  Zoe Kazan (Ruby Sparks), producers Belén Atienza, Álvaro Agustín, Ghislain Barrois, Enrique López Lavigne (The Impossible), production designer Sharon Seymour (Argo), cinematographer Claudio Miranda (Life of Pi), film editor Pietro Scalia (Prometheus), costume designer Judianna Makovski (The Hunger Games), property master  Andrew M. Siegel (The Amazing Spider-Man), foreign film directors  Olivier Nakache and  Eric Toledano (The Intouchables) and Steven Spielberg's longtime film editor Michael Kahn (Lincoln), who received the Lifetime Achievement Award.
Zoe Kazan (pictured above talking to Tribute), known for her on screen and stage performances was absolutely thrilled to be acknowledged for her first screenplay, telling us: "I am overwhelmed by this honor. To be recognized for my very first try at writing a script and especially one so personal truly humbles me." Editor Michael Kahn, who has worked with Steven Spielberg for over 30 years, was grateful for the honor, which was presented by Harrison Ford, and was quick to acknowledge his longtime collaborator: "I have to say this is quite extraordinary, but having the opportunity to work with such a wonderful man like Spielberg for so many years has made my job easy." ~Bonnie Laufer Krebs