Jessica Chastain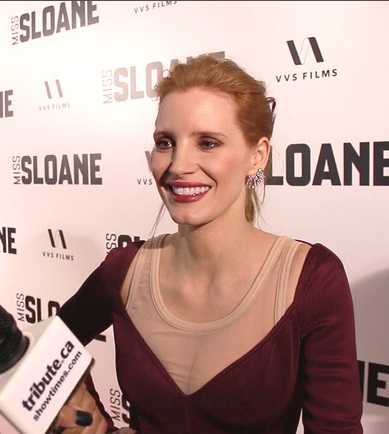 , director John Madden, Raoul Bhaneja and Grace Lynn Kung walked the red carpet at the Miss Sloane premiere in Toronto.
Assistant editor Marriska Fernandes chatted with Jessica, who plays the titular character in the film. The actress shared some of the assumptions she had about the lobbying industry before making the film and what she was surprised to learn after. She also named the strong, powerful women she admires in the film industry.
John discussed what initially drew him to this timely political thriller and at what point he knew this role was meant for Jessica. John and Jessica worked together on the 2010 film The Debt.
British-born Canadian actor Raoul Bhaneja described his first reaction when he read the script and what he learned about the lobbying industry that surprised him the most. He also revealed which Elizabeth Sloane quality he wished he had.
Canadian actress Grace Lynn Kung described what made Jessica the best actor to play Elizabeth Sloane and revealed the top three women she admires in showbiz.
Watch the interviews below! ~ Marriska Fernandes