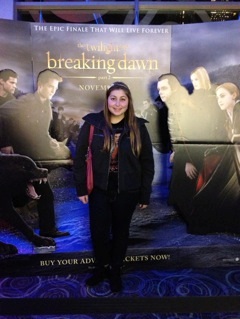 It's the day Twi-hards everywhere have been waiting for — The Twilight Saga: Breaking Dawn – Part 2 is finally here. While the highly-anticipated conclusion of the series was officially released everywhere today, selected theaters across North America offered late-night showings yesterday. But we wanted to give one lucky winner the chance to see it before everyone else! Tribute set out to find Canada's Biggest Twilight Fan and after going through hundreds of entries, we picked Alisse Kelertas from Oakville, Ontario, who attended a special Advance Screening of the film in Toronto on Wednesday evening.
As a self-proclaimed "Team Jacob" devotee (with a bedroom literally covered in Taylor Lautner posters), Alisse runs a fan Twitter page for the actor that has gotten over 10,000 followers since she launched it several years ago. She credits the series of films for playing such an important part in her life. In her contest entry, she wrote: "I was 12 when the first Twilight movie came out and I remember seeing it with my best friends. We are now 16 and since then we have all grown up a lot but one thing that hasn't changed is our love for The Twilight Saga! It has brought us all closer and I am so thankful for it!" It only made sense then that when Alisse heard she had won, the first person she called was her best friend, and invited her to be her guest for the screening.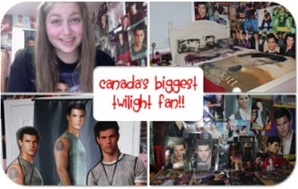 We checked in with Alisse after the show to find out what her experience was like: "We were super excited to attend the advanced screening. When we got there it was really cool because they had posters and Twilight displays everywhere so the atmosphere was really fun." So what did this super-fan actually think of the movie itself? "[It] was INCREDIBLE! It was everything I hoped for and more! You could tell the audience loved it too. People (including me) were screaming, clapping and grinning ear to ear throughout the movie. The twist everyone is talking about is so good and the ending was perfect. Attending the Breaking Dawn Part 2 advanced screening was an awesome way to end The Twilight Saga."
Like Alisse, you can win great prizes too just by visiting our Contest page and entering. Click here to see what we're giving away next! Also be sure to check out our exclusive The Twilight Saga: Reflections feature. Click here to watch!