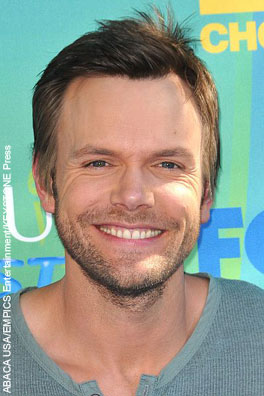 Joel McHale – Spy Kids: All the Time in the World – In theaters August 19, 2011
Joel McHale has to be one of the hardest working guys in Hollywood. Not only is he the star of two weekly TV shows (Community, The Soup), he performs stand-up comedy on a regular basis and has three major movies coming out. His latest film is Spy Kids: All the Time in the World which is in 4D. (smell-avison!) He plays Wilbur, a workaholic father who has no idea that his wife (Jessica Alba) and kids are spies. Tribute had the chance to talk with Joel by phone from Hollywood about his extremely busy career, working on a Spy Kids movie with director Robert Rodriguez and the importance of family.
Let's start with the amazing success you are having with your TV shows. You've been hosting The Soup for a number of years and one of the things that makes the show so popular is the fun that you poke at TV shows and the people in them. It must be gratifying when you get positive feedback from some of the people you poke fun at.
McHale: It really is great. Especially having people who we make fun every week come on and poke fun at themselves is really cool, I love that. No reality star has been mad at me yet for making fun of them. I'm sure that one day soon though, someone is going to take a swing at me.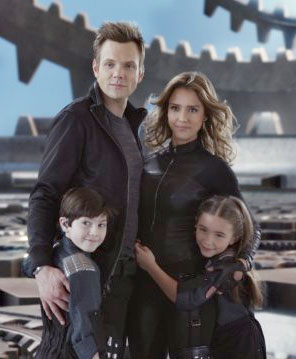 I want to know what it's like being one of the busiest guys in Hollywood?
McHale: Well, that would be a title still reserved for Ryan Seacrest. I have one assistant; he has about nine. I don't have a food taster yet, I don't have a fluffer either. But, yes there are some days when I don't know if I am coming or going. Today for example, I worked on Community until 5:30 a.m. and then got picked up at 7:30 a.m. at my house to come here to the hotel to begin a full day of press for Spy Kids. It is really busy, but I am not going to complain. Maybe I'm not the busiest man; I'm more like the most desperate man in Hollywood.
When you began working in Hollywood your intentions were to be an actor. Hosting The Soup has undoubtedly been a stepping stone for your starring role in Community and the movie roles you've been getting. I would think you must be pretty happy about the way things are turning out.
McHale: I'm very happy and being raised Catholic I assume it will end tomorrow. The rug will be pulled out from under me and someone will say, now go to your real job, shoveling poop somewhere. My intention with The Soup was to hopefully follow in the footsteps of past hosts, like Greg Kinnear. The pedigree of that show was really good and if it could just get me into some of those audition rooms I've always wanted to get into that I could not get into, then I would be very happy. So when Community came up and then the movie roles started happening I was very grateful. I am trying to be careful with the movie roles I select because if you pull the trigger too quickly, like choosing a lead role in a crappy movie then you will be put in movie jail and you will never be heard from again.  If it's not a big hit you'll be forgotten pretty fast.
Which brings us to Spy Kids: All the Time in the World. Looking at the pedigree of director Robert Rodriguez and the incredible success of the first three films, I would think it would be a no brainer to be a part of something like that?
McHale: Yes, the script was a lot of fun and the people who were involved made it easy to decide to take part.
Also, your character is a dad who doesn't have a lot of time for his kids. I know in your real life you're so busy that it must be hard to spend a lot of time with your own two sons.
McHale: Yeah, I didn't have to do too much "research" or acting to play this guy. (laughs) It is actually very difficult to manage all the time. The Community schedule is crushing and it kills me because I don't get to be with my family as much as I'd like. Yesterday I went to work at 2:30 p.m., went home for dinner at 6 p.m. and went back to work at midnight. So that actually worked out great, but regularly it doesn't happen that I get to put the boys to bed. Before Community started up again for the season, we had the chance to go on a long family vacation where we drove for ten days down the coast. I was like wow, look at these people that I am related to and am actually spending some quality time with! So it was great to be with them, but now my schedule is really difficult so I have to take what I can get.
So what was it that made you decide to be a part of the new Spy Kids movie?
McHale: Without a doubt, Robert Rodriguez is the reason I was drawn to it. The fact that he even knew who I was and then was interested in me for the role was amazing.  I am a huge fan of his and it's like a bucket list thing for me to be able to work with him and knowing that Jessica Alba and Jeremy Piven were in it I knew that part was going to be good and as you said, the pedigree of the series was great, so it was really one of those things I couldn'tresist. 
Sounds like there was no hesitation on your part in this case.
McHale: No, not really. When I initially met with Robert I was just so excited to meet the guy. I was able to go to Troublemaker Studios in Austin, Texas and just hanging out was fantastic. Working on this took up all of my weekends while I was shooting Community. It was crazy, but again, no regrets.   
This is something that your boys can actually see, especially your eldest who is six. I'm sure that must have weighed on your mind too when you were considering the role?
McHale: Oh yeah, it will be great for him to see this but there are no locomotives in it, so that might be a problem because he's pretty far into that right now. But I'm hoping that he can open his mind a little.
Your onscreen wife in Spy Kids is Jessica Alba, that couldn't have been too tough?
McHale: Yeah, that was also one of those things where it's clearly a suspension of disbelief. Like that would happen in real life. NOT! It's a fantasy world where someone like her would agree to be with someone like me. 
Another cool thing about this new film is that the original spy kids Alexa Vega and Daryl Sabara are in it as older spy consultants.
McHale: It was great having them around and I have to say pretty weird seeing them all grown up! Plus we have Jeremy Piven; and Ricky Gervais agreed to be in it and Antonio Banderas has a cameo in and that's a testament to Robert. He's such a good director and such a good guy. He gets everybody, because everyone wants to work with him. 
Also what's interesting about Robert Rodriguez is that he always stresses the importance of family.
McHale: Yeah, you're absolutely right, he certainly does. His whole family works with him, his sister is one of his producing partners and his ex-wife is also a producer and she's great. His kids are very involved and he has really done it his way. He controls every step of his career. There's no one telling him what to do and I admire him deeply for that.  
Joel, when did you know you were a funny guy?
McHale: Hmmm, I don't really know.  I think the first test is when you're very little and you fart, and you laugh at it and so do your friends and family. I knew before I was funny I was very annoying so I have that covered. I think it was because I was not very good in school I used humor as a defense mechanism. When I started doing plays and stuff at school I decided that I was going to keep doing it until someone tells me to stop and get a real job.
You've got a few other things coming up, like Season 2 of Community coming out on DVD on September 6th. I'm sure there's a lot of good stuff on those discs for fans to look forward to.
McHale: We have tons of behind-the-scenes goodies and the gag reels are very long and hilarious. 
How many hours of footage end up on the cutting room floor when you shoot that show?
McHale: Hours is an understatement. I honestly don't know how the director and editor decide each week what actually makes it on the air. There's of course director and cast commentary on each episode on the DVD. We had a blast recording that.
You've got quite an ensemble cast on Community and it seems that you all get along and work well together. How did you know it was going to work?
McHale: I don't know how (producer) Dan Harmon put that together but he did. Everyone gets along and we all babysit Chevy Chase (laughs) and it all works out. Plus we are given a lot of freedom to riff off each other and compliment each other's comedic style. The group is so talented, whether it be Donald Glover or Allison Brie and now Jim Rash who plays the Dean is finally a full member of the cast — oh my gosh, he is so funny. I call him Rumplestiltskin; he can spin comedy out of anything. I am in such a blessed situation — if only more people would watch it.  
So can you give us any scoop as to what we will see in the upcoming season?
McHale: Wait till you see what we have in store this season. We have John Goodman and Michael K. Williams from The Wire making guest appearances and they are both in the first episode and will be in multiple episodes throughout the season. They are killing it.
Any parodies in the works?
McHale: Not yet, it's still too early to know that. But maybe we will pay homage to Kurasowa and do a Samurai episode entirely in classic Japanese. (laughs)
You also have other films coming out over the next year. What's Your Number with Chris Evans and Anna Faris, plus The Big Year working alongside Steve Martin, Owen Wilson and Jack Black. Seriously, are you pinching yourself?
McHale: Yes, believe me I am black and blue. Plus I just finished a Seth MacFarlane movie called Ted and I can't believe the cast I got to work with there [Mila Kunis, Mark Wahlberg].  I feel like I am winning some kind of contest to trick people into working with me. When I was doing scenes with Steve Martin I think we had to retake a lot of it because my mouth was hanging open. He was like, 'What's wrong with you?' and I would answer, 'I'm playing a person who is slow.' Believe me, I pinch myself every day about it and then I realize that it's self mutilation. ~Bonnie Laufer