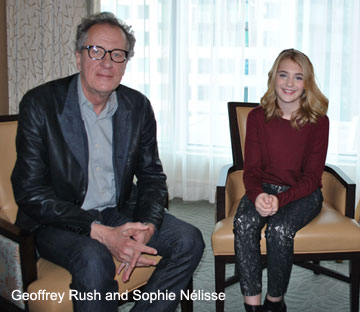 We recently had the opportunity to speak with the director and stars of the new movie, The Book Thief at the Ritz-Carlton in Toronto. Australian-born actor Geoffrey Rush is well known for his Oscar-winning performance in Shine, as well as for winning a BAFTA award opposite Colin Firth in The King's Speech. He also played Captain Barbossa in the Pirates of the Caribbean movies. In The Book Thief, he plays a kind German man who, along with his wife (played by Emily Watson), takes in Liesel Meminger, an orphan girl during WWII. Sophie Nélisse, who won a Genie award in 2012 for her debut performance in the French-Canadian movie Monsieur Lazhar, makes her English-language debut in the role of Liesel. Directed by Brian Percival (Downton Abbey), the movie shows what the German people had to go through, living in fear under a vicious dictator.

 What was it about this film that drew you in?
Geoffrey: I hadn't read the book. I subsequently of course have, it's been on best seller lists for about seven years and it's by an Australian author. So I read the script and just adored the story. The perspective of it—the freshness of that particular devastating period of history being seen from our former enemies' point of view. You're just seeing how this fanatic ideology shifts people in a really devastating horrible way. And I love the fact that the central protagonist was a ten year old—a literate, grief-stricken ten year old, moving into young womanhood.

Sophie, was it a big eye-opener for you when you read the script?
Sophie: Well, I read the script after my first audition so I did a self-tape and I sent it. It was the first time that I cried while reading a script. And also the message it was sending to people. I said I have to do the movie because if I do the movie probably all my friends are going to go see it, and all my friends don't know that subject. So I thought I have to do the movie so everybody can know what happened in that time.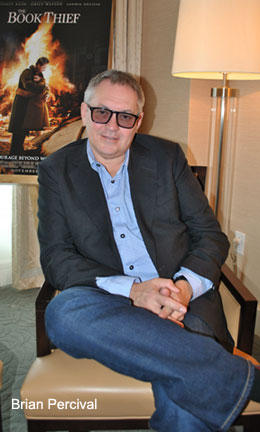 Brian, how did you first get involved with the project?
Brian: I was on the verge of doing my first Hollywood movie and I was sent the script amongst quite a few and this was the one, the only one to me that really, really stood out. There are many, many reasons because the way it deals with humanity and the human spirit and those sort of things but also it was the way they dealt with loss and with mortality. It looked at that from a different perspective and things that I'd experienced in my own life and it sort of made me reevaluate the way that I thought about loss. It took a really positive, hopeful perspective on that as well, it wasn't typical of what you get from a Hollywood film. Normally we're fed a lot of movies that portray Nazis who are Nazis from the start. They never look at them as actually real people and in some ways it can be more frightening to see how a normal person can be corrupted into believing something so wrong. It's more interesting to see that little old ladies in their 70s could believe something that's just so wrong because they're fed that ideology.

We're so proud of Sophie for her Genie award-winning performance in Monsieur Lazhar. How did you come to cast her?
Brian: Through that film really. We cast the net far and wide. We started in England and went out across Switzerland, Germany, Austria, Scandanavia and we still hadn't found anyone. Six to seven months in we went wider and went to America, Australia, and Canada. Markus Zusak, the author, mentioned Monsieur Lazhar and that was a film I was aware of, watched it and I thought she was terrific. So we asked Sophie to self-tape, just so we could see what she was like now, because that was a year or two ago and kids grow up quickly. And she was great, there was this spirit there right away. There was this kid running around the garden, who looked really quite modern but there was so much spirit there. I remember thinking, "I think she could be the one." There was just something there that nobody else had.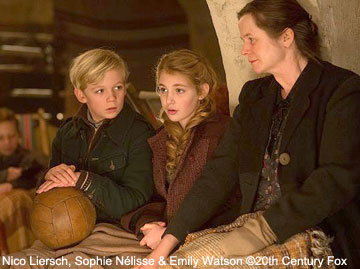 How difficult was it to do a German accent?
Geoffrey: Accents are terribly hard because I don't have a natural ear. I know some actors who will just hear something like a Scots accent and they just do it. But I've worked with a dialogue coach, Barbara Berkery. We met on Shakespeare in Love and we did Peter Sellers, the Pirates films, Munich, and all that together and I alerted her to this project knowing that she was great at the scale of the work that she would have to do. We're working next to German actors who are speaking in English and we're speaking English trying to approximate the right tone, the right rhythm, the right tune of the voice. I think everyone agreed we didn't want to sound like we were in some ancient WWII movie where you were so aware of the accent. It just had to be light enough and have the right flow.

Sophie, when did you learn to speak English?
Sophie: I was born in Ontario, in Windsor, so I spoke French but my nanny spoke English. So I learned listening to her and she taught me a bit of English. But I moved to Montreal when I was four and I stopped speaking English because I went to French school. But then two years ago I went to an English gymnastics club so I started to speak English a bit more. I always knew how, I kept it, but I still have a French-Canadian accent so it helped that I needed a German accent.
How difficult was that?
Sophie: It wasn't hard because it just mixed up together so I think it went well and now I've been speaking English for about four months solid so now it's getting better. It's a bit more fluid.
Would you like to do more English language movies?
Sophie: Yeah, I obviously want to stay in Quebec but I want to do movies not just in English but also in France or London. Pretty much everywhere.
What was the most challenging role you had to play? Was it this one?
Sophie: Yes, but it wasn't that challenging, it was just fun.
The Book Thief opens today (Friday, November 15) in Toronto and Montreal; on November 22 in Vancouver and Quebec City and November 27 in Calgary, Edmonton, Ottawa.  ~Photos and interview by Alexandra Heilbron/Movie still featuring Nico Liersch, Sophie Nélisse and Emily Watson courtesy of 20th Century Fox.