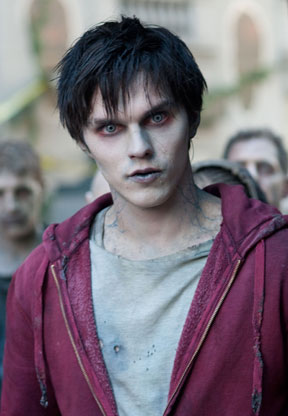 How does a director follow up his critically acclaimed cancer-comedy, 50/50? He turns to Zombie love, of course! Warm Bodies, which will hit theaters this August, is the latest film from Jonathan Levine. Based on the bestselling novel by Isaac Marion, Warm Bodies tells the story of "R" (Nicholas Hoult, seen at left), a zombie who falls in love with Julie (Teresa Palmer) after he eats her boyfriend's brains and absorbs his memories. The movie also stars the always funny Rob Corddry and John Malkovich.
The movie was shot in and around Montreal and last fall a number of journalists from the United States and Canada were invited by Entertainment One Films and Summit Entertainment to the set to conduct interviews with the cast and director and then get made up like Zombies to become extras in the film. I, for one, could not resist the opportunity and experienced the full extra treatment. I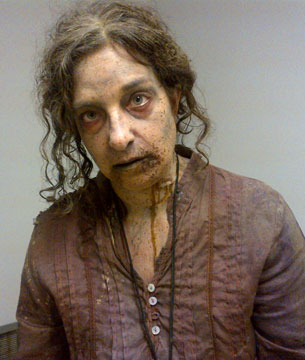 spent just over an hour in the makeup chair and was expertly transformed into one of the best looking Zombies on set. (No offence Nicholas, but I think I looked way scarier than you!)  
On the day that I was there, the scene was set in an abandoned airport terminal. Suitcases and clothes were strewn all over the floor and luggage carousels were abandoned. In the scene, dozens of zombies were shuffling around the terminal with "R" leading the pack. Somehow I got positioned right behind Nicholas, so I'm pretty sure my shuffling may actually make the cut!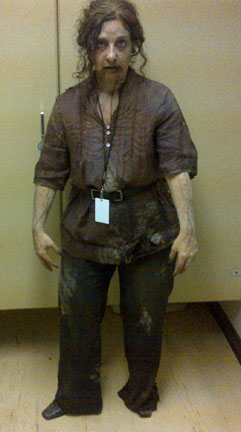 After hours of shooting we had the opportunity to take a break to chat with some of the stars. I spoke with Nicholas, Teresa, Rob and Jonathan. (These interviews and features will be posted closer to the release date). More scenes were shot, then following a long but exhilarating day it was time to remove my makeup. Due to a huge prosthetic zombie bite on my neck, the removal process took almost an hour, but finally the team had me looking like my old self!
I'm quite confident that I nailed my theatrical debut as a Zombie!!! You'll all have to let me know when the movie is released on August 10. We'll post more stories and pictures from my amazing day on the set, plus video of my makeup transformation and all the interviews with the stars, closer to the release of the film. ~ Bonnie Laufer-Krebs