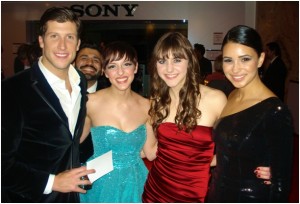 The first-ever Canadian Screen Awards took place Sunday night to honor Canada's best in film and television. The event was held at the Sony Centre for Performing Arts in Toronto and hosted by comedian Martin Short, who was joined by fellow Canadians Fefe Dobson, Meg Tilly and many more. Another guest at the star-studded event was Steffi DiDomenicantonio, who was the grand prize winner of Tribute's Canadian Screen Awards Red Carpet Experience Contest, including a lavish night at the Westin Harbour Castle in Toronto.
Here's what Steffi had to say about her "amazing and unforgettable night," a once-in-a-lifetime experience: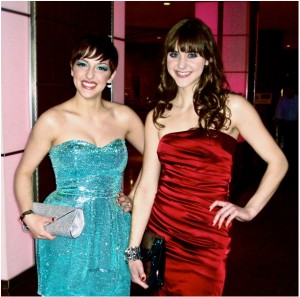 We checked into our awesome hotel room in the afternoon that had a perfect view of the water and got into our fancy dresses and makeup! After walking the red carpet, we had the pleasure of meeting the investors from Dragon's Den (which is one of my favorite shows), The Bachelor Canada's Brad Smith, Catherine O'Hara, Jay Baruchel and the incomparable Sandra Oh. We were both so starstruck! They also had amazing hors d'oeuvres, from sushi to duck to tortellini and everything in between. After the awards show, we took some pictures in the photo booth and danced until the morning! Not to mention, we got an awesome Lancôme and L'Oréal swag bag at the end of the night filled with goodies!
After eating a delicious room service breakfast [Monday] morning, we packed our things and casually passed by Alan Thicke in the hotel lobby. Not a bad way to end our Canadian Screen Awards experience!