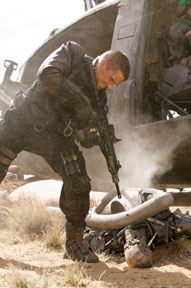 An exclusive look inside the highly anticipated film Terminator Salvation was given to a small group of Canadian media in Toronto by director extraordinaire McG. "The first story was about saving Sarah Connor. The second film was about saving John Connor," McG commented on James Cameron's first two instalments. "This film is about saving Kyle Reese." Spreading his extreme excitement about the film, McG was also in full praise of Christian Bale, who plays John Connor. "Christian is an extraordinary actor. We have been collaborating on this film from day one," said McG. "Christian doesn't really care about the money, he cares about his wife, his child and the quality of the films he works on."
McG also went on at length about Bale's co-star, Australian actor Sam Worthington. "This is a guy to watch, he is going to be a big star." Also featured in Terminator Salvation are Anton Yelchin (Alpha Dog) and Moon Bloodgood (Eight Below) who, as McG says, is a "strong female lead, and really kicks some butt."  
Showing three clips of the yet unfinished film proved to be nothing short of spectacular—including a monstrous 15-metre-tall giant robot called a Harvester, robotic motorcycles, a flying hovercraft and underwater robots called Hydrabots. Expect lots of explosions, gunfire and a battle to the ultimate death between the humans and Skynet's human-like T-800 robots. McG revealed they are also testing "groundbreaking" new technology, which they are close to perfecting. 
McG explained that the story, set in 2018 nearly 15 years after Terminator 3: Rise of the Machines, which left off with John Connor as a soldier in the resistance army, will be a thrilling tale of how John Connor becomes the leader of the resistance, taking his rightful place intended from birth.
As to whether rumors are true that Governor Arnold Schwarzenegger will make an appearance, McG remained tight-lipped, saying, "He needs to check with his people first to see if it would be a good thing." Let's hope Arnie feels like it's a good thing, after all, he always promises he'll be back, and as we all know, the Governator is a man of his word.