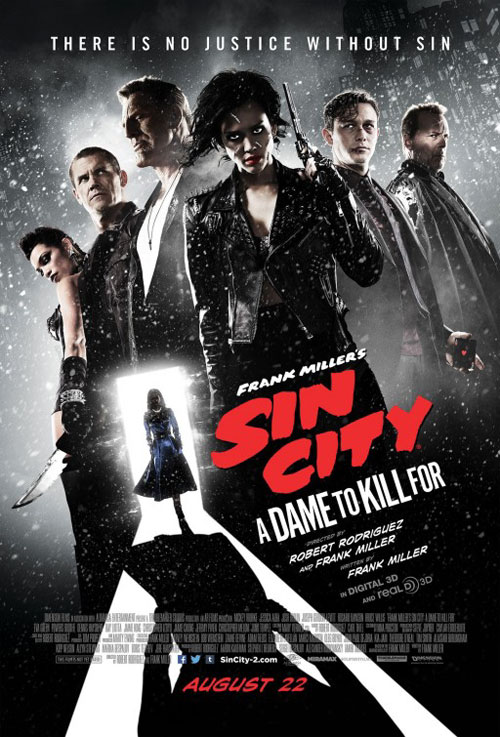 Even though Comic-Con ended on Sunday, several new trailers were unveiled that have left fans hungry for more. We rounded up the most popular trailers at Comic-Con along with this week's top five trailers. Here's a feast of feisty trailers for you, movie lovers!
1) Frank Miller's Sin City: A Dame to Kill For
2) The Hobbit: The Battle of the Five Armies
2) The Hunger Games: Mockingjay – Part 1
4) Mad Max: Fury Road
Tribute's weekly top five:
1) Lucy
2) Fifty Shades of Grey
3) Sex Tape
4) The Purge Anarchy
5) Tammy
1) Frank Miller's Sin City: A Dame to Kill For trailer: Based on the comic book by Frank Miller, the much anticipated sequel focuses on both familiar faces and brand new characters. Featuring an all-star cast, the latest installment in the Sin City franchise will again mix special effects with black and white coloring to replicate the world of the original graphic novel.

2) The Hobbit: The Battle of the Five Armies trailer: The conclusion of Bilbo Baggins (Martin Freeman), the Wizard Gandalf (Ian McKellen) and the 13 Dwarves' epic quest to reclaim the lost Dwarf Kingdom of Erebor from the dragon Smaug (voiced by Benedict Cumberbatch).

3) The Hunger Games: Mockingjay – Part 1 trailer: With Peeta (Josh Hutcherson) captured by Snow and taken prisoner in the Capitol, Katniss Everdeen (Jennifer Lawrence) reluctantly agrees to act as "the Mockingjay"—a poster child for the rebellion spearheaded by District 13. She has one stipulation however—that District 13's President Alma Coin (Julianne Moore) promises immunity to all past Hunger Games tributes, including Peeta, and to give Katniss the right to personally kill President Snow (Donald Sutherland) once he is captured.

4) Mad Max: Fury Road: Wandering the Wasteland alone, Mad Max (Tom Hardy) encounters a group of rebels fleeing from the warlord Immortan Joe, from whom something irreplaceable has been taken.

Tribute's weekly top five:
1) Lucy trailer: A woman (Scarlett Johansson) forced to work as a drug mule for the mob in Taipei, Taiwan finds out that a drug implanted in her body has accidentally gotten into her blood stream.

2) Fifty Shades of Grey trailer: Anastasia Steele (Dakota Johnson), 21, is studying at Washington State University. She takes a writing assignment for the school paper to interview Christian Grey (Jamie Dornan), a 27-year-old successful and wealthy entrepreneur. Although she finds him intimidating, she's instantly attracted.

3) Sex Tape trailer: When Jay (Jason Segel) and Annie (Cameron Diaz) first got together, their romantic connection was intense—but 10 years and two kids later, the flame of their love needs a spark. To kick things up a notch, they decide—why not?—to make a video of themselves trying out every position in The Joy of Sex in one marathon three-hour session.

4) The Purge: Anarchy trailer: In a dystopic future, the government, re-engineered by the New Founders of America (NFA), has sanctioned an annual 12-hour Purge wherein all crimes that occur during that time are ignored and can be committed without fear of punishment, in an effort to ensure that the crime rate stays below one per cent for the rest of the year.

5) Tammy trailer: Tammy (Melissa McCarthy) is having a bad day. She's totaled her clunker car, gotten fired from her thankless job at a greasy burger joint, and instead of finding comfort at home, finds her husband getting comfortable with the neighbor in her own house. It's time to take her boom box and book it.