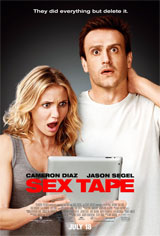 Tribute fans have enjoyed watching a number of trailers last week. One of the fastest trending trailers has been the highly anticipated Fifty Shades of Grey. You can also check out the top five trailers of the week! The comedy Sex Tape took the top spot while Lucy, which opens today, rounded out the top five. Which one is your favorite?
1) Sex Tape
2)Tammy
3) The Purge: Anarchy
4) Begin Again
5) Lucy
Click here to see them all.

1) Sex Tape trailer: When Jay (Jason Segel) and Annie (Cameron Diaz) first got together, their romantic connection was intense—but ten years and two kids later, the flame of their love needs a spark. To kick things up a notch, they decide—why not?—to make a video of themselves trying out every position in The Joy of Sex in one marathon three-hour session.

2) Tammy trailer: Tammy trailer: Tammy (Melissa McCarthy) is having a bad day. She's totaled her clunker car, gotten fired from her thankless job at a greasy burger joint, and instead of finding comfort at home, finds her husband getting comfortable with the neighbor. It's time to take her boom box and book it.

3) The Purge: Anarchy trailer: In a dystopic future, the government, re-engineered by the New Founders of America (NFA), has sanctioned an annual 12-hour Purge wherein all crimes that occur during that time are ignored and can be committed without fear of punishment, in an effort to ensure that the crime rate stays below one percent for the rest of the year.
4) Begin Again trailer: College sweethearts Greta (Keira Knightley) and Dave (Adam Levine) are songwriting partners who move to New York after he lands a deal with a major label. When he strays, heartbroken Greta considers moving back home to Britain.

5) Lucy trailer: A woman (Scarlett Johansson) forced to work as a drug mule for the mob in Taipei, Taiwan finds out that a drug implanted in her body has accidentally gotten into her blood stream.