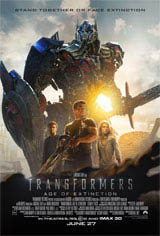 Tribute fans have called the shots! Here are this week's top ten trailers that having been getting all the buzz. Some new trailers have made the cut, like the highly anticipated The Hunger Games: The Mockingjay Part 1 and Teenage Mutant Ninja Turtles. Which one is your favorite?
1 ) Transformers: Age of Extinction
2 ) 22 Jump Street
3 ) Jersey Boys
4 ) The Fault in Our Stars
5 ) Think Like a Man Too
6 ) Fury
7 ) The Hunger Games: The Mockingjay Part 1
8 ) Maleficent
9 ) Edge of Tomorrow
10) Teenage Mutant Ninja Turtles
1) Transformers: Age of Extinction trailer: The fourth installment in the Transformers sci-fi/action series, this takes place four years after an epic battle saves the world, but leaves Chicago in tatters. Autobots and Decepticons are no longer wanted on Earth by humans and have gone into hiding.

2) 22 Jump Street trailer: Once again reporting to Captain Dickson (Ice Cube), Jenko (Channing Tatum) and Schmidt (Jonah Hill) are assigned to go undercover at a local college.

3) Jersey Boys trailer: The story of the rise of the music group The Four Seasons, with a special focus on their lead singer, Frankie Valli (John Lloyd Young), the small kid with the big falsetto.

4) The Fault in Our Stars trailer: Hazel (Shailene Woodley), a teen with Stage 4 thyroid cancer, is forced by her parents to attend a cancer support group. Gus (Ansel Elgort), a basketball player who lost his right leg to osteosarcoma but is now in remission, meets her at the group.

5) Think Like a Man Too trailer: A sequel to the 2012 comedy Think Like a Man, the film follows the couples on their way to Las Vegas for a wedding. Candace (Regina Hall) and Michael (Terrence Jenkins) are getting married, so their friends hit Sin City for their bachelor and bachelorette parties.

6) Fury trailer: April, 1945. During the last months of WWII, a battle-hardened army sergeant named Wardaddy (Brad Pitt) takes command of a five-man team who pilot a Sherman tank named Fury on a deadly mission behind enemy lines. Outnumbered and outgunned, they have to defeat all odds in an attempt to strike down Nazi Germany.

7) The Hunger Games: Mockingjay Part 1 trailer: With Peeta (Josh Hutcherson) captured by Snow and taken prisoner in the Capitol, Katniss Everdeen (Jennifer Lawrence) reluctantly agrees to act as "the Mockingjay"—a poster child for the rebellion spearheaded by District 13.

8 ) Maleficent trailer: Thanks to the face and name of star Angelina Jolie, Disney's live-action spin-off of their animated classic, Sleeping Beauty, was number one at the box office when it debuted. The film shifts its focus to the classic villain – the first Disney film to do so as a feature or as a live-action film.

9) Edge of Tomorrow trailer: Despite his military ranking, Major William Cage (Tom Cruise) has never experienced combat. During a war against an invading alien race, he's suddenly assigned what amounts to a suicide mission and is killed within minutes.

10) Teenage Mutant Ninja Turtles trailer: When New York City is threatened by the evil Shredder and his Foot Clan, four unlikely outcast brothers rise from the sewers and discover their destiny as Teenage Mutant Ninja Turtles.