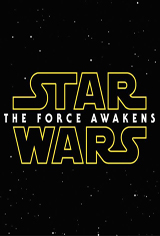 The top five trailers are here and as expected, Star Wars: The Force Awakens took the top spot. Following close was Jurassic World and Pan. The popular franchise film The Hunger Games: Mockingjay – Part 1 rounded out this week's hottest trailers. Which was your favorite trailer of the week?
1) Star Wars: The Force Awakens
3) Pan
5) The Hunger Games: Mockingjay – Part 1
1) Star Wars: The Force Awakens trailer: The continuation of the Star Wars saga, set 30 years after Return of the Jedi.

2) Jurassic World trailer: Claire (Bryce Dallas Howard) is one of a team of scientists who have created a genetically modified hybrid dinosaur for Jurassic World, a fully functioning dinosaur theme park. However, Owen (Chris Pratt), who works at the theme park, has misgivings and soon finds out the hybrid has gone wild.


3) Pan trailer:  Peter, who lives in an orphanage, receives a cryptic letter from his absentee mother. Soon after, all the boys in the home are kidnapped by pirates and brought to Neverland to work as slaves. Because Peter wears the necklace of Pan, which denotes the bravest warrior in Tiger Lily's tribe, it's deemed he's destined to save the land from the pirate Blackbeard with the help of James Hook.

4) Horrible Bosses 2 trailer: Nick (Jason Bateman), Dale (Charlie Day) and Kurt (Jason Sudeikis) decide to become their own bosses by launching their own business. But a slick investor soon takes control of their company. Desperate, the three friends hatch a plan to kidnap the investor's adult son and ransom him to regain control of their company.

5) The Hunger Games: Mockingjay – Part 1 trailer:  With Peeta (Josh Hutcherson) captured by Snow and taken prisoner in the Capitol, Katniss Everdeen (Jennifer Lawrence) reluctantly agrees to act as "the Mockingjay"—a poster child for the rebellion spearheaded by District 13. She has one stipulation however—that District 13's President Alma Coin (Julianne Moore) promises immunity to all of the past Hunger Games tributes, including Peeta, and to give Katniss the right to personally kill President Snow (Donald Sutherland) once he is captured.