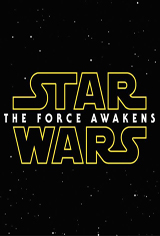 For yet another week, Star Wars fans have chosen the latest Star Wars: The Force Awakens as Tribute's most popular trailer of the week. Angelina Jolie's Unbroken stole the second place while the musical Into The Woods sat at number three. What was your favorite trailer of the week?
1) Star Wars: The Force Awakens
2) Unbroken
3) Into The Woods
4) The Gambler
5) The Imitation Game
1) Star Wars: The Force Awakens trailer: The continuation of the Star Wars saga, set 30 years after Return of the Jedi.

2) Unbroken trailer: Bullied as a youngster, Louis "Louie" Zamperini (Jack O'Connell) learned to fight back and beat up his tormentors. He enjoyed that so much that he began getting into trouble, so his brother Pete encouraged him to take up track to direct his energy towards something that would give him a sense of pride. Louie went on to set records as a runner and even made it to the 1936 Summer Olympics in Germany. In 1941 Louie enlisted in the United States Army Air Forces but while in combat, his plane was damaged and crashed into the sea. After 47 days on the water, he reached land but was immediately captured by the Japanese. Thrown into a prisoner-of-war camp, he was tormented by prison guard Mutsuhiro Watanabe, who was considered one of the 40 most wanted war criminals in Japan. Based on the book by Laura Hillenbrand.

3) Into the Woods trailer: A baker (James Corden) and his wife (Emily Blunt) learn that they've been cursed by a witch (Meryl Streep) into being childless. They must venture into the woods to find out how to break the spell so they can start a family. Along the way, they encounter well known characters of a variety of the Brothers Grimm fairy tales, including Rapunzel (Mackenzie Mauzy), Little Red Riding Hood (Lilla Crawford) and Cinderella (Anna Kendrick). Based on the hit Broadway musical by James Lapine and Stephen Sondheim.

4) The Gambler trailer: English professor Jim Bennett (Mark Wahlberg) is a high stakes gambler who routinely loses hundreds of thousands of dollars at blackjack and roulette tables. A risk taker, he's already in debt for $240,000 when he borrows $50,000 from a brutal gangster named Neville (Michael Kenneth Williams), putting up his own life as collateral. Bennett blows the $300,000 his mother (Jessica Lange) gives him to bail him out during a single trip to a Palm Springs Casino and immerses himself in an illicit, underground world while garnering the attention of loan shark Frank (John Goodman). It isn't until Bennett develops a relationship with student Amy Phillips (Brie Larson) and she's threatened, that he finds himself taking the ultimate risk to get a second chance.

5) The Imitation Game trailer: Alan Turing (Benedict Cumberbatch), a brilliant Cambridge mathematician, cryptanalyst and computer scientist, is enlisted by his country during World War II to break the Nazi Enigma code, and is later persecuted by the government in 1952 for being homosexual. Based on the book Alan Turing: The Enigma by Andrew Hodges.