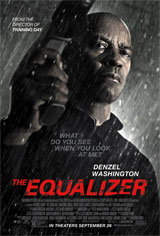 With the week coming to an end, we have rounded up the top five trailers that are a favorite among our Tribute readers. Taking the top spot is Denzel Washington's The Equalizer.  Which is your favorite trailer of the week?
1) The Equalizer
2) The Maze Runner
3) A Walk Among the Tombstones
4) Blackhat
5) The Boxtrolls
1) The Equalizer Trailer: Robert McCall (Denzel Washington), a former covert operations officer, volunteers his services as a private eye to people in need in an attempt to atone for a dark past. He meets and forms a relationship with Teri (Chloë Grace Moretz), a teenage prostitute who needs his help. However, as a result, he finds himself embroiled with the Russian mob.

2) The Maze Runner Trailer: Teenager Thomas (Dylan O'Brien) is brought to a place called the Glade, a giant maze surrounded by vicious creatures called Grievers. He has no memories of anything in his life that happened before.

3) A Walk Among the Tombstones Trailer: When drug dealer Kenan Khoury's wife is kidnapped and he tries to negotiate the price of the ransom, she's murdered. He hires his friend, ex-NYPD cop and current private investigator Matt Scudder (Liam Neeson), along with two computer geniuses, a streetwise punk and drug lords to find out who killed his wife.

4) Blackhat Trailer: Nicholas Hathaway (Chris Hemsworth) is doing 15 years in prison for cyber hacking. Four years into his sentence, he's offered a deal to be released if he'll work with a group trying to find a cyber criminal network and if he succeeds in identifying and apprehending them, his sentence will be commuted.

5) The Boxtrolls Trailer: Beneath the charming cobblestone streets of Cheesebridge, a posh Victorian-era town obsessed with wealth, class, and the smelliest of fine cheeses, dwell the Boxtrolls. The local residents see them as foul monsters who crawl out of the sewers at night to steal children and cheese.