Gone Girl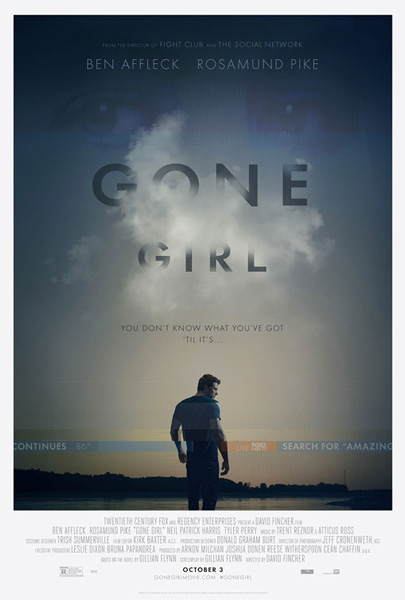 was a clear winner this week as it not only topped the box office for the second consecutive week, but it also was a favorite among the Tribute fans. Robert Downey Jr.'s The Judge took the second spot and rounding out the top three was the family film Alexander and the Terrible, Horrible, No Good, Very Bad Day. Which was your favorite trailer of the week?
1) Gone Girl
2) The Judge
3) Alexander and the Terrible, Horrible, No Good, Very Bad Day
4) The Equalizer
5) Annabelle
1) Girl Gone Trailer: Nick Dunne (Ben Affleck) and his beautiful wife, Amy (Rosamund Pike), move from New York City back to his hometown of North Carthage, Missouri, where, with money from Amy's trust fund, he opens a bar. On their fifth wedding anniversary, Nick reports that Amy has gone missing. If you'd like to win a copy of this book, tell us why by clicking here.

2) The Judge Trailer: When successful big city lawyer Hank Palmer (Robert Downey Jr.) returns to his hometown for his mother's funeral, he finds out that his estranged father (Robert Duvall), esteemed Judge Joseph Palmer, is suspected of murdering a former defendant whom he failed to convict, and who went on to commit a horrific crime.

3) Alexander and the Terrible, Horrible, No Good, Very Bad Day Trailer: Eleven-year-old Alexander (Ed Oxenbould) experiences the most terrible and horrible day of his young life—a day that begins with gum stuck in his hair. He does a face plant in front of a cute girl, photoshopped pictures of him are texted to the whole school and he accidentally sets a fire in class. But when Alexander tells his family about his disastrous day, he finds that they're all having nothing but luck and he begins to wonder if bad things only happen to him.

4) The Equalizer Trailer: Robert McCall (Denzel Washington), a former covert operations officer, volunteers his services as a private eye to people in need in an attempt to atone for a dark past. He meets and forms a relationship with Teri (Chloë Grace Moretz), a teenage prostitute who needs his help. However, as a result, he finds himself embroiled with the Russian mob.

5) Annabelle Trailer: John Gordon (Ward Horton) and his wife Mia (Annabelle Wallis) are expecting a child. He buys a vintage doll called Annabelle for their unborn daughter. Shortly after, their home is invaded by members of a satanic cult, who attack the couple and spill blood on Annabelle.