Gone Girl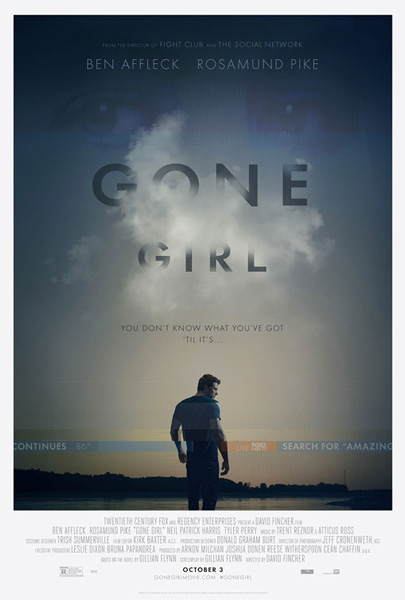 was a clear winner again this week and was a favorite among the Tribute fans. Brad Pitt's Fury took the second spot while Robert Downey Jr.'s The Judge took the third spot. The Best of Me, based on the novel by Nicholas Sparks, was #4 on the charts while rounding out the top five was the family film Alexander and the Terrible, Horrible, No Good, Very Bad Day. Which was your favorite trailer of the week?
1) Gone Girl
2) Fury
3) The Judge
4) The Best of Me
5) Alexander and the Terrible, Horrible, No Good, Very Bad Day
1) Girl Gone Trailer: Nick Dunne (Ben Affleck) and his beautiful wife, Amy (Rosamund Pike), move from New York City back to his hometown of North Carthage, Missouri, where, with money from Amy's trust fund, he opens a bar. On their fifth wedding anniversary, Nick reports that Amy has gone missing.

2) Fury Trailer: April, 1945. During the last months of WWII, a battle-hardened army sergeant named Wardaddy (Brad Pitt) takes command of a five-man team who pilot a Sherman tank named Fury on a deadly mission behind enemy lines. Outnumbered and outgunned, they have to defeat all odds in an attempt to strike down Nazi Germany.

3) The Judge Trailer: When successful big city lawyer Hank Palmer (Robert Downey Jr.) returns to his hometown for his mother's funeral, he finds out that his estranged father (Robert Duvall), esteemed Judge Joseph Palmer, is suspected of murdering a former defendant whom he failed to convict, and who went on to commit a horrific crime.

4) The Best of Me Trailer: Former high school sweethearts Dawson (James Marsden) and Amanda (Michelle Monaghan) reunite after 20 years apart when they return to their small town for the funeral of the man who took Dawson in when he needed refuge from his violent family. Their bittersweet reunion reignites the love they've never forgotten, but his family continues to pose a threat, and although Amanda has stayed with her alcoholic husband for her children's sake, she can't ignore the fact that Dawson is her one true love.

5) Alexander and the Terrible, Horrible, No Good, Very Bad Day Trailer: Eleven-year-old Alexander (Ed Oxenbould) experiences the most terrible and horrible day of his young life—a day that begins with gum stuck in his hair. He does a face plant in front of a cute girl, photoshopped pictures of him are texted to the whole school and he accidentally sets a fire in class. But when Alexander tells his family about his disastrous day, he finds that they're all having nothing but luck and he begins to wonder if bad things only happen to him.