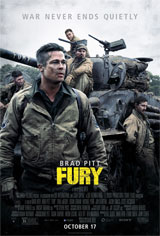 Tribute's top trailer of the week was none other than Brad Pitt's Fury, which took the #1 spot at the box office in its opening weekend. Here are the top five trailers chosen by our Tribute fans. Which one was your favorite?
1) Fury
2) Avengers: Age of Ultron
3) Gone Girl
4) John Wick
5) The Best of Me
1) Fury trailer: April, 1945. During the last months of WWII, a battle-hardened army sergeant named Wardaddy (Brad Pitt) takes command of a five-man team who pilot a Sherman tank named Fury on a deadly mission behind enemy lines. Outnumbered and outgunned, they have to defeat all odds in an attempt to strike down Nazi Germany.

2) Avengers: Age of Ultron trailer: In this sequel to the biggest super hero movie of all time, The Avengers—Iron Man (Robert Downey Jr.), Captain America (Chris Evans), Thor (Chris Hemsworth), The Incredible Hulk (Mark Ruffalo), Black Widow (Scarlett Johansson) and Hawkeye (Jeremy Renner)—are put to the ultimate test as the villainous Ultron (James Spader) emerges, with the fate of the planet hanging in the balance.

3) Gone Girl trailer: Nick Dunne (Ben Affleck) and his beautiful wife, Amy (Rosamund Pike), move from New York City back to his hometown of North Carthage, Missouri, where, with money from Amy's trust fund, he opens a bar. On their fifth wedding anniversary, Nick reports that Amy has gone missing.
Although at first he has support in his quest to find her, Nick eventually becomes a suspect in her disappearance and possible murder, especially when he's questioned by the police and gives a much different view of his marriage than what they find in Amy's journal. To top it off, the police find out he's been having an affair.

4) John Wick trailer: When John Wick (Keanu Reeves) fell head over heels in love with Helen (Bridget Moynahan) and married her, he retired from his life as a top assassin. They enjoyed five happy years together before she died following a lengthy illness. Following the funeral, he receives a beagle puppy named Daisy as a posthumous gift from his late wife. Taking time to grieve, he bonds with the puppy, who becomes the focus of his life. Everything changes when a young punk (Alfie Allen) and his friends break into John's home to steal his vintage car. Not knowing who he is in the underworld, they not only beat John up, but they wind up killing Daisy. John is dragged into his old life of violence, determined to seek revenge.
5) The Best of Me trailer: Former high school sweethearts Dawson (James Marsden) and Amanda (Michelle Monaghan) reunite after 20 years apart when they return to their small town for the funeral of the man who took Dawson in when he needed refuge from his violent family. The two parted when Amanda's parents refused to pay for college if she continued to see Dawson. Realizing she was in danger from his family and not wanting her to miss out on college, he broke up with her. Although she moved on and got married, the memory of her never left him and he remained single. Their bittersweet reunion reignites the love they've never forgotten, but his family continues to pose a threat, and although Amanda has stayed with her alcoholic husband for her children's sake, she can't ignore the fact that Dawson is her one true love.