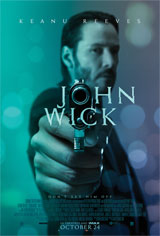 Tribute's top trailer of the week was none other than John Wick. Following close was Brad Pitt's Fury, which was #1 at the box office in its opening weekend. Here are the top five trailers chosen by our Tribute fans. Which one was your favorite?
1) John Wick
2) Fury
3) Ouija
4) Gone Girl
5) St. Vincent 
1) John Wick trailer: When John Wick (Keanu Reeves) fell head over heels in love with Helen (Bridget Moynahan) and married her, he retired from his life as a top assassin. They enjoyed five happy years together before she died following a lengthy illness. Following the funeral, he receives a beagle puppy named Daisy as a posthumous gift from his late wife. Taking time to grieve, he bonds with the puppy, who becomes the focus of his life. Everything changes when a young punk (Alfie Allen) and his friends break into John's home to steal his vintage car. Not knowing who he is in the underworld, they not only beat John up, but they wind up killing Daisy. John is dragged into his old life of violence, determined to seek revenge.

2) Fury trailer: April, 1945. During the last months of WWII, a battle-hardened army sergeant named Wardaddy (Brad Pitt) takes command of a five-man team who pilot a Sherman tank named Fury on a deadly mission behind enemy lines. Outnumbered and outgunned, they have to defeat all odds in an attempt to strike down Nazi Germany.

3) Ouija trailer: Laine Morris (Olivia Cooke) convinces her group of friends to use a Ouija board to try to make contact with their recently deceased friend Debbie (Shelley Hennig). They return to where Debbie died in an attempt to reach her. However, they get more than they signed up for when they end up awakening the dark spirits of the ancient board. They discover disturbing film footage Debbie recorded of herself after she found the Ouija board, leading up to her ultimate brutal death. Now the friends are being haunted by the same darkness and they need to break the connection before they wind up like Debbie. However, the only way to break the connection is to play the game again.

4) Gone Girl trailer: Nick Dunne (Ben Affleck) and his beautiful wife, Amy (Rosamund Pike), move from New York City back to his hometown of North Carthage, Missouri, where, with money from Amy's trust fund, he opens a bar. On their fifth wedding anniversary, Nick reports that Amy has gone missing. Although at first he has support in his quest to find her, Nick eventually becomes a suspect in her disappearance and possible murder, especially when he's questioned by the police and gives a much different view of his marriage than what they find in Amy's journal. To top it off, the police find out he's been having an affair.

5) St. Vincent trailer: A 12-year-old boy whose parents just got divorced begins to hang out with his next door neighbor Vincent (Bill Murray), a cantankerous, misanthropic war veteran. The man teaches the boy all about gambling, fighting, stealing, and other guy stuff, to the horror of the local parish priest (Chris O'Dowd), who's offended by the terrible life lessons Vincent chooses to teach the impressionable kid.