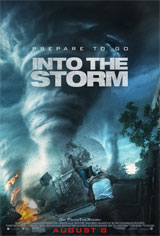 Tribute fans have enjoyed watching a number of trailers over the last week but these are the top ten trailers that made the cut! It was no surprise that big blockbusters like The Expendables 3  and Teenage Mutant Ninja Turtles made the list.  Divergent fans will be happy to see that the film is still popular among movielovers. Which is your favorite trailer?
1) Into the Storm: In just a single day the town of Silverton is devastated by an unexpected string of tornadoes. The entire town is at the mercy of these erratic and deadly cyclones and storm trackers are predicting that the worst is yet to come.
2) Guardians of the Galaxy: Peter Quill (Chris Pratt) starts off as an Earth child whose mother is dying. When she passes, it changes his outlook on life. He's then raised as a space adventurer and thief whose life is in danger after stealing a mysterious orb. Many in the universe seek the orb, although only some know its true power and purpose. When Quill discovers why thugs and villains are after the orb, he must bring together rivals and enemies to help protect the universe.
3) Lucy: A woman (Scarlett Johansson) forced to work as a drug mule for the mob in Taipei, Taiwan finds out that a drug implanted in her body has accidentally gotten into her blood stream.
4) Teenage Mutant Ninja Turtles: When New York City is taken over by the evil Shredder and his Foot Clan, four unlikely outcast brothers rise from the sewers and discover their destiny as Teenage Mutant Ninja Turtles.
5) The Hundred-Foot Journey: After a tragic incident, the Kadam family, led by Papa (Om Puri), moves from their native India to make a fresh start in a safer place. Their van breaks down just outside the quaint village of Saint-Antonin-Noble-Val in the south of France. They're rescued by Marguerite (Charlotte Le Bon), who takes them in and gives them an exquisite meal. Papa finds a place for sale that he believes would be perfect for them to open an Indian restaurant, the Maison Mumbai. His secret weapon is his talented son, Hassan (Manish Dayal), for whom cooking is an art and a passion.
6) The Expendables 3: Barney (Sylvester Stallone) comes face-to-face with Conrad Stonebanks (Mel Gibson), with whom he co-founded The Expendables years earlier. Stonebanks subsequently became a ruthless arms trader and someone who Barney was forced to kill… or so he thought.
7) Get On Up: A biographical drama following the story of James Brown, the Godfather of Soul, showing his rise from poverty to extreme success. It shows how he rose from an his impoverished childhood to become a world famous and highly influential R&B musician with hits in the 1960s and '70s, becoming one of the most influential musical figures of the 20th century.
8 ) Sex Tape: When Jay (Jason Segel) and Annie (Cameron Diaz) first got together, their romantic connection was intense—but ten years and two kids later, the flame of their love needs a spark. To kick things up a notch, they decide—why not?—to make a video of themselves trying out every position in The Joy of Sex in one marathon three-hour session.
9)Left Behind: A pilot (Nicolas Cage) struggles to save the lives of a small group of passengers that remain on his flight after millions of people around the world suddenly vanish without a trace.
10)Divergent: Beatrice "Tris" Prior (Shailene Woodley) lives in a society divided into five factions. On a set day each year, all 16-year-olds must choose the faction they will be part of for the rest of their lives. If they later decide they don't want to be part of the faction, they can't switch, but instead become homeless and destitute, on the fringes of society.