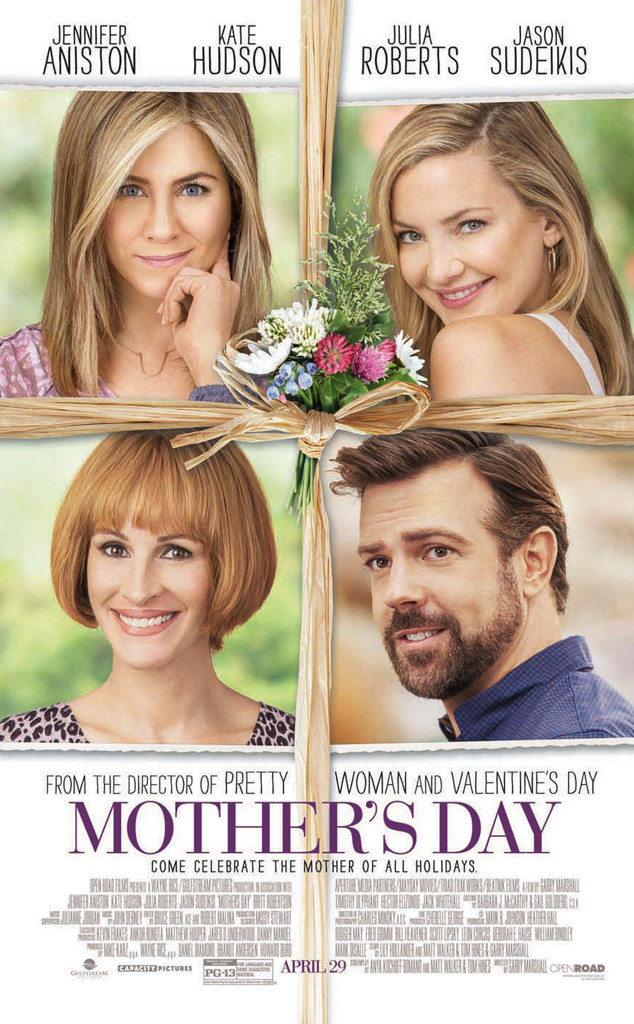 Mom-lovers and chick-flick lovers unite because the trailer for ensemble romantic comedy Mother's Day has once again landed at the top as the most-watched trailer of the week. Right behind is box office champ and Marvel darling Captain America: Civil War's second trailer, with the Super Bowl trailer for The Jungle Book and the premiere trailer for Snowden each moving up one spot to third and fourth, respectively. The third movie adaptation of the Dan Brown series, Inferno, and its first teaser trailer complete the top five this week. ~Shelby Morton
Check out Tribute's top trailers below:
1.) Mother's Day
2.) Captain America: Civil War
3.) The Jungle Book
4.) Snowden
5.) Inferno
Mother's Day- Follows the lives of different characters — Sandy (Jennifer Aniston), a divorced mother of two, Jesse (Kate Hudson), who's frustrated with her out-of-touch parents, Miranda (Julia Roberts), a successful TV personality whose long-lost daughter (Britt Robertson) suddenly appears, Bradley (Jason Sudeikis), a widower struggling to raise two daughters — and how their very different lives connect leading up to Mother's Day.
Captain America: Civil War- Tensions rise between Captain America/Steve Rogers (Chris Evans) and the other Avengers when global governments initiate an act to regulate all superhuman activity due to human casualties. Iron Man/Tony Stark (Robert Downey Jr.) feels guilty and believes superheroes should register, while Steve believes in the principles of freedom and has a clear mistrust of the government. The events put a strain on the friendship and eventually, The Avengers.
The Jungle Book- In this revamp of the classic Rudyard Kipling novel, orphan boy Mowgli (Neel Sethi) is raised in the jungle by Bagheera (Ben Kingsley) the panther, and Raksha (Lupita Nyong'o) the mother wolf and her cubs. Although he wants to stay, it's clear that Mowgli should live in the "man village." With the help of Baloo (Bill Murray), Mowgli fights the despicable villains Shere Khan (Idris Elba) and Kaa (Scarlett Johansson) and ultimately decides his future as a human in the jungle.
Snowden- Chronicles the true story of Edward Snowden (Joseph Gordon-Levitt), an American who sought to serve his country through the Special Forces. When he badly injured both of his legs, he pursued a path towards the CIA and was eventually signed on as an employee, as well as an NSA contractor. But while working, he uncovered some questionable practices and in a bold and brazen move, leaked thousands of classified documents to the press in 2013. The film co-stars Shailene Woodley, Melissa Leo, Zachary Quinto and Nicolas Cage.
Inferno- Based on the book by Dan Brown, Robert Langdon (Tom Hanks) wakes up in a hospital room in Florence, Italy, with no memory of what has happened in the past few days. He suddenly finds himself the target of a manhunt. With the help of Dr. Sienna Brooks (Felicity Jones) and his expertise in symbology, he tries to escape while solving the most intricate riddle he's ever come across.