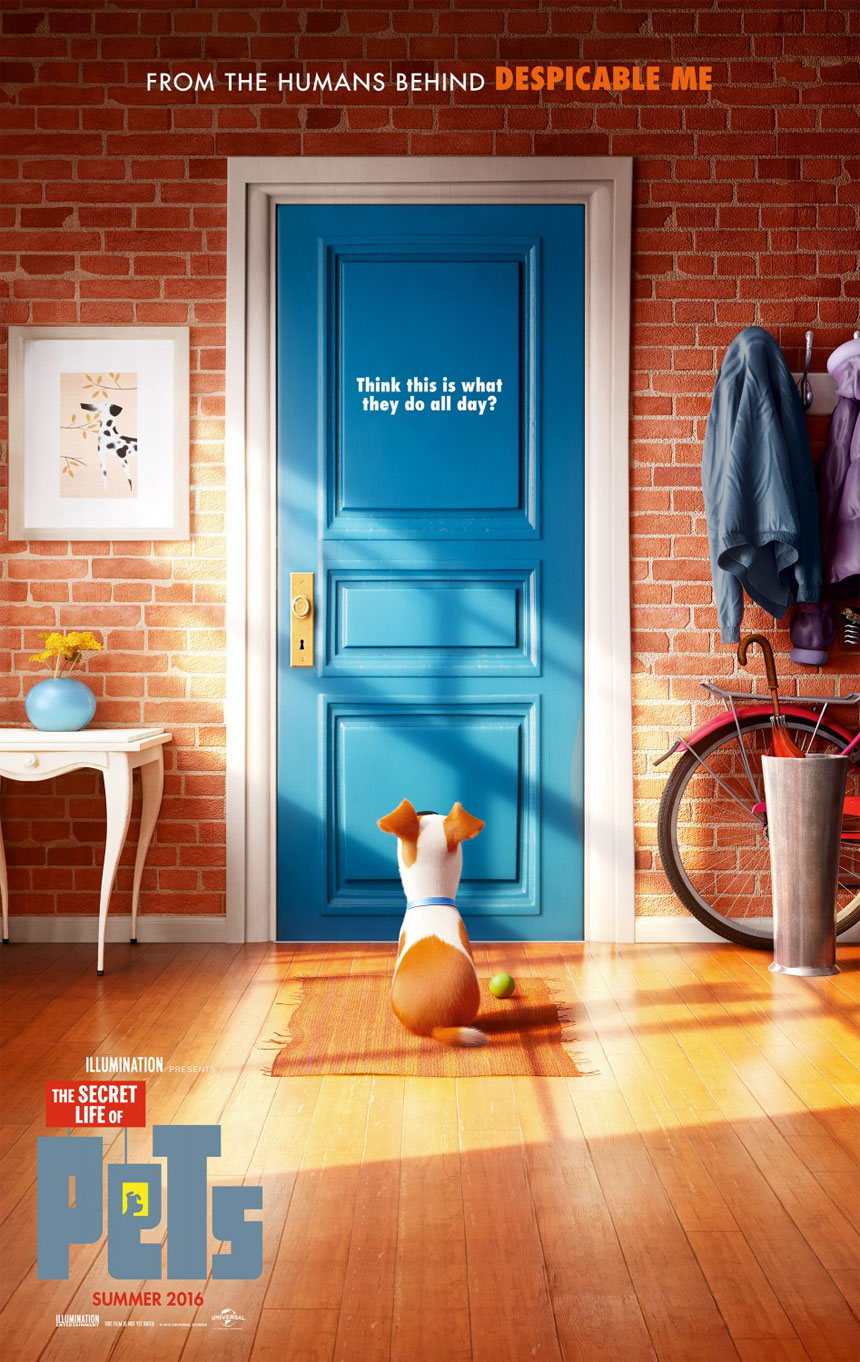 This week, The Secret Life of Pets was the most-viewed trailer on our site for the second week in a row, while The Legend of Tarzan held on to second place for the third consecutive week. In third place was Ghostbusters, followed by the Zac Efron comedy Mike and Dave Need Wedding Dates, in fourth for the second consecutive week. In fifth place, and also for the second time, was Central Intelligence. ~ Yanis Khamsi 
Check out the top trailers below:
1) The Secret Life of Pets
2) The Legend of Tarzan
3) Ghostbusters
4) Mike and Dave Need Wedding Dates
5) Central Intelliegnce
The Secret Life of Pets – In Manhattan, Max (voice of Louis C.K.) is enjoying his life as his owner Katie's (voice of Ellie Kemper) best pal in the comfortable apartment building where they live together. One day, his life is turned upside down when his human brings home a sloppy mongrel named Duke (voice of Eric Stonestreet). When their dog walker loses Max and Duke, they run into a bad little bunny named Snowball (voice of Kevin Hart) and his gang of unwanted pets.
The Legend of Tarzan – Years after he left the jungles of Africa behind, Tarzan (Alexander Skarsgård), now known as John Clayton, a.k.a. Lord Greystoke, is living a comfortable life in England with his wife, Jane (Margot Robbie). When he's invited back to the Congo, he's unaware that he's a pawn in a deadly convergence of greed and revenge, masterminded by Leon Rom (Christoph Waltz), who will do anything to get his hands on the diamonds of Opar.
Mike and Dave Need Wedding Dates – Hard-partying brothers Mike (Adam DeVine) and Dave (Zac Efron) are told by their father that they need to find suitable dates for their sister's upcoming Hawaiian wedding. In an effort to show their family they can secure respectable dates, they advertise for a couple of nice women. The ad reaches The Wendy Williams Show and Tatiana and Alice (Aubrey Plaza, Anna Kendrick) see it. The out-of-control girls decide to trick the brothers into thinking they're polite and composed. But once the girls reach Hawaiian shores, the unsuspecting men realize they've been out-smarted, and will soon be out-partied.
Ghostbusters – Scientist Erin Gilbert (Kristen Wiig) is enjoying her job at a prestigious college until she finds out Abby Yates (Melissa McCarthy), with whom she wrote a book about the paranormal years earlier, has ordered reprints of the book and is selling it online. Worried because the scientific world ridicules those who believe in ghosts, Erin tracks Abby down and begs her to burn the books. Ghostbusters is a reboot of the 1984 Ghostbusters film.
Central Intelligence – Bob Stone (Dwayne Johnson), a former geek turned lethal CIA agent, returns home for his high school reunion. Claiming to be on a top secret mission, he enlists the help of former "big man on campus"-turned-accountant Calvin (Kevin Hart), who misses his glory days. Before he realizes what he's gotten himself into, it's too late for Calvin to back out. Central Intelligence is the story of a domestic number-cruncher being dragged through an unpredictable world of deadly shoot-outs and espionage.