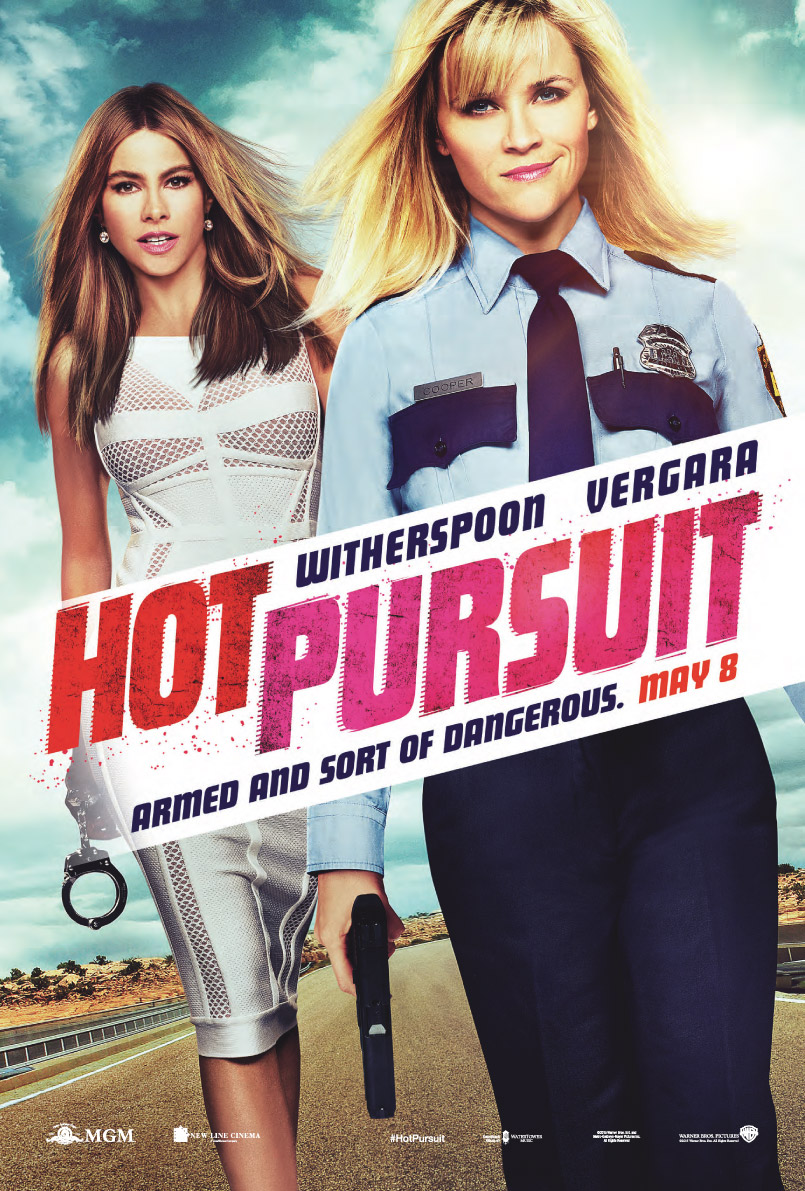 The ladies are leading the pack this week as Hot Pursuit takes the throne on the Tribute's top trailers of the week list. While the action-packed Avengers: Age of Ultron secured the second spot, The Age of Adaline, starring Blake Lively, was bumped to third position. Pitch Perfect 2's Barden Bellas sang their way to the fourth place on the charts. Ex Machina rounded out the top five trailers.
1) Hot Pursuit
2) Avengers: Age of Ultron
3) The Age of Adaline
4) Pitch Perfect 2
5) Ex Machina
1) Hot Pursuit trailer: A by-the-book cop (Reese Witherspoon) and a drug boss widow (Sofia Vergara) try to evade crooked cops and vicious assassins as they go on the lam through Texas. The police officer sets off to protect the widow but ends up on the run herself when they realize they've both been set up. Their journey to clear their names takes them on quite an adventure.

2) Avengers: Age of Ultron trailer: The Avengers—Iron Man (Robert Downey Jr.), Captain America (Chris Evans), Thor (Chris Hemsworth), The Incredible Hulk (Mark Ruffalo), Black Widow (Scarlett Johansson) and Hawkeye (Jeremy Renner)—come together once again when the fate of the planet is hanging in the balance. Stark's artificial intelligence experiment goes terribly wrong and ultimately creates the villain Ultron (James Spader), who thinks he is protecting the Earth by destroying humanity. The other Avengers struggle with trust after Stark kept them in the dark about the experiment, but they realize they need to work together in order to protect the world. Meanwhile, Russian twins Black Witch (Elizabeth Olsen) and Quicksilver (Aaron Taylor-Johnson) are also working against the Avengers, believing Stark to be responsible for their parents' death.

3) The Age of Adaline trailer: Following a near-fatal accident one icy night, a 29-year-old woman named Adaline (Blake Lively) stops aging. She keeps her condition a secret throughout the 20th century until she meets a man (Michiel Huisman) who may change her solitary life.

4) Pitch Perfect 2 trailer: The Barden Bellas are back and this time around, the film focuses on Beca (Anna Kendrick) and Fat Amy (Rebel Wilson) as they navigate through their senior year. When Fat Amy has an embarrassing wardrobe malfunction on live TV, the team is disgraced and banned from domestic competition. The only way for the team to redeem themselves is to win the World Championships, to be held in Copenhagen. They're joined by newbie Emily (Hailee Steinfeld), whose mother (Katey Sagal) once sang with the troupe, in order to win against German reigning champions Das Sound Machine.

5) Ex Machina trailer: Caleb (Domhnall Gleeson), a programmer, is sent to a remote facility when he's given the job of evaluating his company CEO Nathan's (Oscar Isaac) experiment in artificial intelligence – a robot named Ava (Alicia Vikander). What was supposed to be a routine check turns into much more when Caleb forms a friendship with Ava, who raises doubts as to whether anything Nathan says can be trusted. For his part, Nathan questions Ava's motives, and Caleb begins to wonder if he's doing the testing or if he's being tested himself.