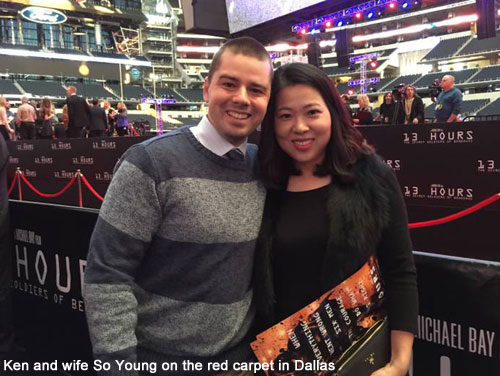 Ken Maingot from Ottawa was the winner of our trip for two to Dallas, which included attending the film premiere of 13 Hours: The Secret Soldiers of Benghazi, where he and his wife So Young Yun had the opportunity to meet director Michael Bay and some of the stars of the movie! We talked to him about his experience and to find out how his trip was.
How surprised were you when you found out you won the trip? Who was the first person you told?
I was extremely surprised! The first person I told was my wife, who didn't believe the news until our flight itinerary was literally in hand.
How often do you enter Tribute contests? Had you ever won before?
Believe it or not, this was the very first time I'd ever entered a Tribute contest – and it was a single entry! Although I may have won something small in the past…nothing that comes even close to a nationwide contest with such an amazing prize as this.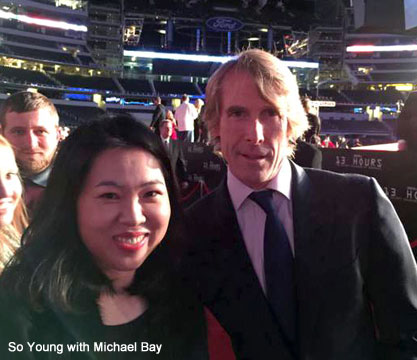 Can you describe briefly your schedule and what you did while there?
We flew out of some very cold weather Monday morning in Ottawa and arrived hours later in a much warmer Dallas, Texas. We were treated like stars ourselves, with a Cadillac waiting to bring us to one of the premiere hotels in Dallas – The Joule. Paramount representatives were waiting to welcome us in the lobby and presented us with a very generous $500 gift card to enhance our three-day stay. That was on top of a $100 hotel credit and complimentary breakfasts. Having two small children at home, the highlight of this trip, outside of the premiere itself, was treating ourselves to quiet evenings enjoying Texas BBQ and enjoying a bit of a second honeymoon!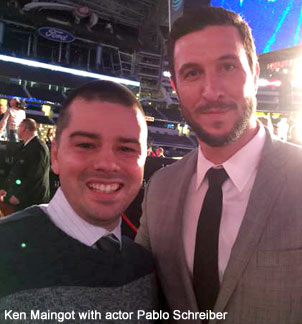 What was it like attending the premiere at the AT&T Stadium? Did you take any photos?
The premiere was a once-in-a-lifetime experience for us. In this major NFL stadium among thousands of people, we were among a select few right beside the red carpet. We were able to shake hands, make conversation, and take photographs with the film's stars, director, and the real-life heroes whose story the movie depicts. Before showtime, we were treated to some incredible musical performances. Popcorn and drinks were provided, and we watched the show on a screen twice the size of an IMAX. All-in-all, a surreal experience!!