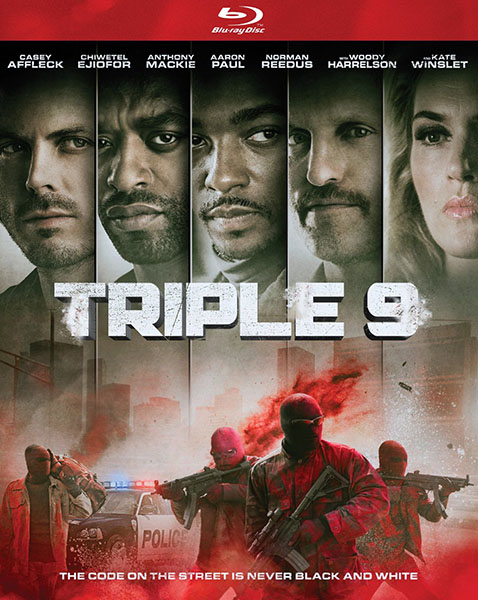 Triple 9 satiates the hunger pangs of the action-thriller fan. While superhero movies have come into vogue, we have seen a steady decline of heist movies and cop stories in Hollywood.
Enter Triple 9, where the city of Atlanta, Georgia is rocked to its foundation by a war between the Russian mafia and the police department. Crime lords Michael Atwood (Chiwetel Ejiofor) and Russell Welch (Norman Reedus) join forces with corrupt cops  Marcus Belmont (Anthony Mackie) and Franco Rodriguez (Clifton Collins, Jr.) to pull off a bank heist along with Welch's brother Gabe (Aaron Paul).
Immediately what struck me is the familiarity I had with the typecasting of some of these characters. "Of course Aaron Paul is playing a man on the wrong side of the law, of course Norman Reedus is playing a dangerous badass," I said to myself.
I never thought I'd see the day when Kate Winslet plays a Russian mobster. We've seen her play the villain in the Divergent franchise, where she successfully pulled off an American accent. In Triple 9, Winslet awkwardly goes back and forth between Russian and American accents.
Winslet's character, Irina, is ruthless. She denies the criminals the reward money for their bank robbery and even kills one of them in cold blood. Irina wants the criminals to break into a government building and steal potentially incriminating information on her husband.
In order to keep the police distracted, they decide to murder a cop. By murdering a police officer, a "triple 9" (police code for officer down) would be sent out. This would discombobulate the Atlanta police force long enough for the criminals to carry out their heist.
The target for this "triple 9" is Marcus' new partner Chris (Casey Affleck). The rest of the film plays out as a high-intensity action movie with Chris trying to keep himself alive while being pursued by a band of criminals who want him dead. Chris and his stoner/detective uncle Jeffrey (Woody Harrelson) try to get to the bottom of the mafia's plans, and come to some chilling conclusions.
Triple 9 is gritty. The actors are sweaty, the lighting is at times reddish, and there are countless deaths via bullet to the head. If you like suspenseful action thrillers,  this is the movie for you.
The Blu-ray comes with some deleted scenes. We see alternate deaths for some characters, some of which are quite chilling. There's also a monologue Marcus gives about his dead dog, which was likely cut because of how depressing it is. Finally, there are featurettes titled Under the Gun and An Authentic World. 
Triple 9 is a triple threat. Great visuals, great acting and a great story make this a can't-miss for the action movie fan. We have two Blu-ray copies to give away. If you'd like to be eligible to win one, leave a comment below telling us the name of your favorite action, crime, and/or heist movie. ~ Yanis Khamsi 
Have you seen Triple 9? We'd like to know what you think. Click here to write your review.