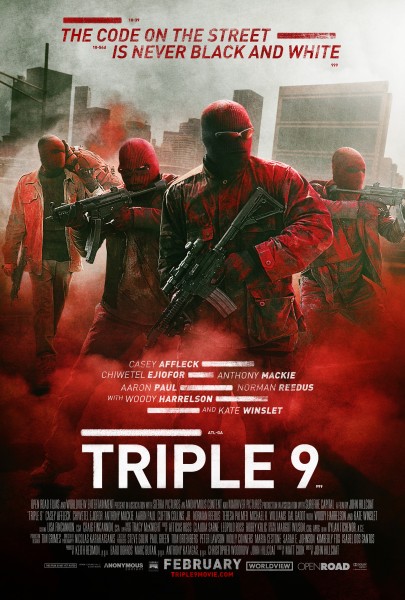 Tribute's got a couple new contenders in the fight for the week's top trailers, including the action thriller about a high stakes heist, Triple 9, which debuted in theaters this week, and managed to steal the top spot as Tribute's most-watched trailer. Click here to watch our interview with Anthony Mackie. Deadpool, still dominating at the North American box office, lands at a close second.
Another rookie is the newly released mythological epic Gods of Egypt, offering up this week's third most-popular trailer. Last week's victor, the second trailer for the epic re-imagining of the Resurrection, Risen, has dropped to the fourth spot this week. And right behind is the single-girl comedy How to be Single, starring funny ladies Dakota Johnson and Rebel Wilson. ~Shelby Morton
Watch all the top trailers here:
1.) Triple 9
2.) Deadpool
3.) Gods of Egypt
4.) Risen
5.) How to be Single
Triple 9- Ex-Special Forces member Michael Atwood (Chiwetel Ejiofor) leads a crew of corrupt cops in a daring bank heist. Detective Sergeant Jeffrey Allen (Woody Harrelson) is roped in to investigate the bank robberies. He is unaware that his nephew Chris Allen (Casey Affleck) has been partnered with one of the corrupt cops (Anthony Mackie). When Russian-Israeli mob boss Irina Vlaslov (Kate Winslet) forces them into another seemingly impossible heist, the crew decides to stage a "999" incident which is cop code for "officer down." They plan to take down one of their own to carry out the heist but things soon take an ugly turn.
Deadpool- The origin story of former Special Forces operative turned mercenary Wade Wilson (Ryan Reynolds), who after being subjected to a rogue experiment that leaves him with accelerated healing powers, adopts the alter ego Deadpool. Armed with his new abilities and a dark, twisted sense of humor, Deadpool hunts down the man who nearly destroyed his life.
Gods of Egypt- Set, the God of Darkness (Gerard Butler), defeats rival deity Horus (Nikolaj Coster-Waldau) in a vicious duel and blinds him before taking over Egypt and enslaving his people. A mortal named Bek (Brenton Thwaites) allies himself with Horus in an attempt to save humanity.
Risen- The story of Clavius (Joseph Fiennes), a Roman Centurion who is called upon to locate the missing body of a recently crucified man named Yeshua, and subsequently follows the epic Biblical story of the Resurrection, as seen through the eyes of a non-believer.
How to be Single- Based on the novel of the same name by Liz Tuccillo, recently single Alice (Dakota Johnson) finds that dating isn't quite what it used to be. Robin (Rebel Wilson) takes Alice under her wing to teach her just how to be single in New York City.