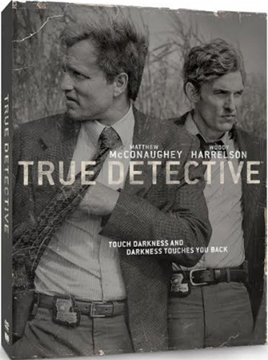 Filmed on location, True Detective is a Southern Gothic largely set in the sinister backwoods of Louisiana, where abandoned places and abandoned people hold the kind of secrets you don't want to know, but you're dying to find out.
The story begins in 1995, when partnered detectives Rustin "Rust" Cohle (Matthew McConaughey) and Martin Hart (Woody Harrelson) are called to investigate the death of former prostitute Dora Lange, whose naked body has been found in a burning crop field. If that's not eerie enough, she is crowned with deer antlers, tattooed with an unusual symbol, surrounded by Cajun bird traps, and set in a kneeling position as if to worship an old tree. Lange becomes the inciting incident for a long and arduous case spanning decades, but Cohle is convinced it's not an isolated incident either.
Over the course of the season, creator/writer Nic Pizzolatto unravels more about the case, but also the people conducting it. Rust is a philosophical, depressive type who is sharp with investigative research but a slave to alcoholism. With no ambition to make friends, he is a lone wolf who has nothing except the case, which becomes his purpose. Hart, a family man with a wife (Michelle Monaghan) and two kids, is practical, but possesses no patience for his partner's nihilistic views.
By 2012, Rust and Cohle are no longer partners. In fact, they haven't spoken in years after a falling out as mysterious as the crimes they investigated back in 1995. They are each interviewed (or interrogated?) separately by the same pair of young detectives, Thomas Papania (Tory Kittles) and Maynard Gilbough (Michael Potts). But this isn't a routine post-mortem report on a case that was supposed to have been closed 17 years prior. There are details of which neither pair of detectives are aware.
There is a supernatural quality to the show, even if it never manifests as obviously as on a fantasy series like Game of Thrones. The characters doubt (and play) God, experience visions, explore haunted houses and investigate bizarre, ritualistic, even Satanic, murders. The landscape is lush, but not, by any means, beautified. The show kicks up dirt and dust, creating a palpable sense of atmosphere that will send shivers down even the hardiest of viewers.
Although inspired by pulp fiction magazines, this show breaks new ground in the mystery genre. It is a truly innovative example of modern drama, using well-placed closure only to follow with nail-biting suspense. True Detective is one of the top dramas that television has offered in recent years and yet another example of HBO's exceptionally high standard for providing quality programming.
One of the show's most pleasant surprises is McConaughey, who has come a long way from playing in chick flicks. True Detective is a fine showcase of his dramatic acting chops. Arguably, playing Rust is his career best. Complex and deeply troubled characters are a dime a dozen, and although such a type would be a welcome reprieve from the surfer-dudes McConaughey used to play, Rust is an entirely different creature I have never before seen, on or off the screen. This is a testament to Pizzolatto's writing, which is rich with profound and fascinating philosophical musings on morality anchored by the show's characters and rooted in story development. It's no wonder the show has been submitted for Emmy consideration and renewed for a second season, with Brad Pitt and Jessica Chastain rumored to star as two of the second season's three lead detectives.
At only eight episodes, the first season is still perfectly satisfying and ideal for binge-watching. Although it's disappointing that Rust and Cohle will no longer feature in the True Detective series beyond the first season, I trust Pizzolatto's vision, and I am looking forward to the new director, cast, setting, story and tone that each forthcoming season will offer.
There are number of great albeit brief bonus features to be enjoyed, including a deleted scene from episode 8 that showcases the seediness of Louisiana, and a conversation between Pizzolatto and composer T Bone Burnett about the show's music, even addressing viewer complaints. In Making True Detective, cast and crew discuss the look of the show, the story, constructing the crime scenes, the characters, the process of translating script to screen (550 pages written in three months!) and the experience of filming in Louisiana, which required an animal wrangler to clear the set of snakes and even a six-foot alligator, which are native to Louisiana. Interesting details include a segment dedicated entirely to the logistics of filming the series' seven-minute long take. Inside the Episode offers viewers an in-depth analysis of each of the season's eight installments. Up Close consist of interviews with Harrelson and McConaughey discussing the critical scenes their characters share together. ~Daniel Horowitz