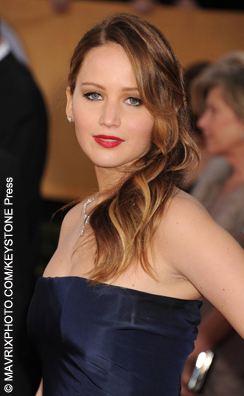 Life is stranger than fiction, and no one knows this better than Hollywood studios. According to the latest production news, audiences will be seeing a lot more films based on a true story in the near future. Due for release in Christmas 2015, Joy tells the story of inventor/entrepreneur Joy Mangano, the struggling single mom from Long Island who created the "miracle mop." But Fox isn't giving Joy just any Hollywood treatment. The film will be directed by David O. Russell and star Jennifer Lawrence in the title role, a winning combination after JLaw received an Oscar and an Oscar nomination for her last two consecutive collaborations with the filmmaker: Silver Linings Playbook and American Hustle.
But it's not just human interest stories that have seized screenwriters' imaginations. Hollywood is looking to other sources of entertainment, including the world of sports, for compelling tales of success and struggle. After directing the baseball drama, The Rookie, John Lee Hancock will step up to the plate once against for a movie based on the life of New York Mets center fielder and convicted felon, Lenny Dykstra. Hancock previously wrote and directed the inspirational football drama, The Blind Side, which was nominated for Best Picture and earned an Oscar for star Sandra Bullock. Speaking of the ol' pigskin, legendary NFL quarterback Joe Namath is also set to inspire a forthcoming biography of his life. James Mangold (The Wolverine, Walk The Line) has entered negotiations to direct the film.
Indeed, there's nothing like sports to represent some of America's finest and proudest moments. But with the good comes the bad, particularly in politics, and it takes a fearless director like Oliver Stone to shine a light on the nation's darker hours. The subject of Stone's upcoming and currently untitled film will be Edward Snowden, who leaked classified documents and other sensitive material to media outlets while working for the National Security Agency (NSA). The film will be based on British journalist Luke Harding's book, The Snowden Files: The Inside Story of the World's Most Wanted Man and Time of the Octopus, a fictionalized account of the scandal written by none other than Snowden's Russian lawyer, Anatoly Kucherena.
Openly-gay director Roland Emmerich, known mainly for his disaster epics, has proven similarly fearless basing his next film, Stonewall, on the 1969 police raid of the Stonewall Inn in Greenwich Village and the ensuring Stonewall Riots that marked the beginning of the gay rights movement. Jeremy Irvine, who played the lead in Steven Spielberg's War Horse and Mike Newell's Great Expectations, will star. ~Daniel Horowitz