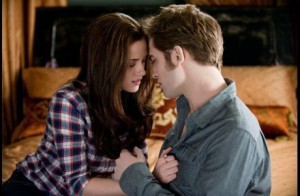 Twilight fans will be interested to know that The Twilight Saga: Breaking Dawn—starring Robert Pattinson, Kristen Stewart and Taylor Lautner—is set to start filming this fall. The movie will film in Baton Rouge, Louisiana and Vancouver.
Although the final book (which is over 800 pages long) will be split into two movies, the cast will shoot both movies back-to-back.
There is also talk that it may be filmed in 3-D. There's no doubt that fans would be thrilled to see Taylor Lautner's abs in 3-D, but the studio still has not yet made a decision.
Kristen Stewart who plays Bella Swan recently told MTV news that she would love it if the movie was in 3-D. "I'm probably speaking out of line, or whatever, but I think it would be awesome. Nobody knows what it's like to look through the eyes of a vampire. What if Bella opens her eyes to this extraordinary world? It could be cool."