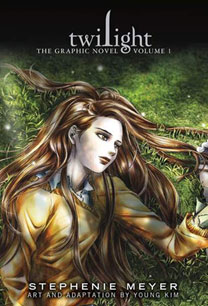 Twilight: The Graphic Novel Volume 1 was released this week in hardcover from Hachette Book Group. The 224-page book features selected text from the original novel by Stephenie Meyer, although not the entire story. Volume II will be released at a later date. The original printing of 350,000 copies will likely go fast, considering that over 85 million copies of the novel have been sold worldwide.
The graphic novel was adapted and illustrated by Korean artist Young Kim. "I love Twilight: The Graphic Novel," Meyer wrote on the dedication page of Volume I. "It's simply beautiful. Working with Young was always very exciting, but more than that, it brought me back to my first Twilight experience. She would send me a new set of drawings, some portrait of Edward or Bella would jump off the page and suddenly I would be feeling all the same things I felt that first summer while I was writing their story. The art made it fresh again."

Reading Twilight: The Graphic Novel is a unique experience. If you've read the book, the story is familiar, but it's presented with gorgeous illustrations to correspond with Stephenie Meyer's original text. The drawings don't resemble the actors from the Twilight movies; instead they're based on the descriptions from the novels, which gives it an original touch. Beautifully rendered, this book is a must-have for serious Twilight fans.