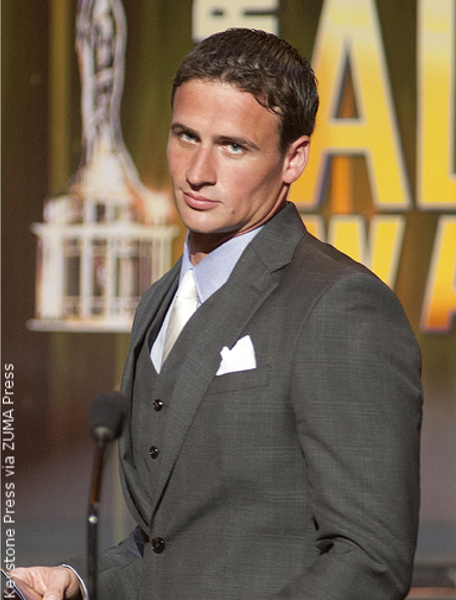 On the season 23 premiere of Dancing With the Stars on Monday night, Olympic swimmer Ryan Lochte's debut was interrupted by two audience members.
Following Ryan's performance with Cheryl Burke, judge Carrie Ann Inaba was trying to give feedback when two men suddenly walked onto the stage. The disruption was targeted towards Ryan, as the men were wearing anti-Lochte shirts and were shaming the swimmer for his recent Rio robbery scandal.
In the scandal, Ryan lied about being robbed at gunpoint at a gas station by men pretending to police, which initially embarrassed Brazil. That is, until local police found video evidence of Ryan and his teammates vandalizing the gas station while intoxicated, and that he make up the incident to cover up the damage.
The Los Angeles Police Department said that the two men, Sam Sotoodeh and Barzeen Soroudi, were detained by private security and arrested on suspicion of trespassing. According to LAPD Officer Mike Lopez, the men were authorized audience members who changed their clothes once inside, and then "unlawfully entered the stage in an attempt to confront Mr. Lochte."
No dancers or celebrities were touched during the incident, and Sam and Barzeen are being held on $1,000 bail as of this morning.
This is not the first time an Olympic athlete appearing on the show was harassed by a fan. In 2009, a fan who claimed he was "meant to be with" gymnast Shawn Johnson was found near the set with a loaded .45 handgun, a loaded shotgun and duct tape in his car,
~Natalia Makarski
View a video of the incident, and a picture that ABC News radio correspondent Jason Nathans posted of the men in the Twitter posts below:
Here's video of whatever just happened to Ryan Lochte on #DWTS pic.twitter.com/x8GAfa7aeT

— Brandon Wall (@Walldo) September 13, 2016
Cuffed for rushing the stage at #DWTS during @ryanlochte's dance pic.twitter.com/rjueIKuLsZ

— Jason Nathanson (@ABCNewsJason) September 13, 2016